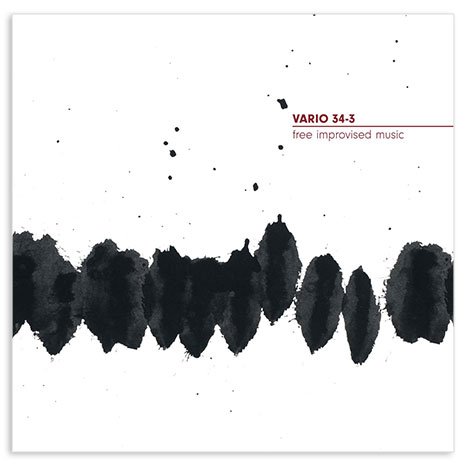 Vario 34
--------
Since its first iteration in 1979, Vario has appeared in some fifty different versions, with a great variety of musicians, also actors, dancers, and filmmakers. It's the brainchild of Günter Christmann, a powerhouse of improvised music in Germany whose influence is out of scale with his acclaim. Since his emergence on the scene in the early 1970s, including appearances on classic FMP outings such as Rüdiger Carl Inc.'s King Alcohol and the eponymous Peter Kowald Quintet LP, as well as membership in groups like Globe Unity Orchestra and later King Übü Orchestrü, Christmann's trombone, cello, and bass playing has provided an icon of commitment to the cause of uncut improvised music, and his solo music is unparalleled. But Vario is perhaps the most central of his activities, focused on the shifting dynamics of group interplay. Vario 34 first performed in October, 1993, bringing Christmann and his contemporary, brilliant percussionist Paul Lovens, together with a triad of young upstarts – saxophonist Mats Gustafsson, live-electronics specialist Thomas Lehn, and bassist Alexander Frangenheim. This quintet performed together for the third time in concerts on successive nights in Berlin and Christmann's hometown of Hannover in August, 2018, two gigs that were beautifully recorded. Vario 34-3 shows the strength of Christmann's concept – a Vario ensemble is neither ad hoc nor a "working group," it's a slowly evolving organism, in this case one that has grown and changed along with its participants over the span of a quarter century. The results are high-caloric free music, brilliantly hued and textured, explosive and microcosmic. Mini-LP-style gatefold CD package with cover drawing by Christmann.

1. tutti no. 1 (7:46)
2. tutti no. 2 (4:33)
3. trio: F/G/L (4:03)
4. duo: C/L (4:48)
5. tutti no. 3 (6:17)
6. tutti no. 4 (5:01)
7. duo: F/L (4:52)
8. trio: C/G/L (5:08)
9. tutti no. 5 (4:34)

Günter Christmann, cello, trombone
Alexander Frangenheim, double bass
Mats Gustafsson, soprano saxophone
Thomas Lehn, live-electronics
Paul Lovens, percussion

Recorded by Alexander Frangenheim and Antonio Pulli, August 21 and 22, 2018, in Berlin and Hannover. Mixed and Mastered by Christmann, Frangenheim, and Dietrich Petzold/tonus arcus.
Cover by Günter Christmann. Executive production for CvsD by John Corbett.
CvsDCD073