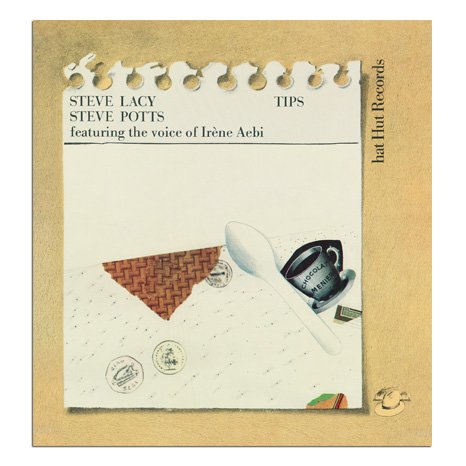 Steve Lacy/Steve Potts
--------
Soprano saxophonist Lacy wrote the suite of tunes for Tips to feature the aphorisms of painter Georges Braque, as sung by Irene Aebi. Together with his right-hand-man, alto saxophonist Potts, he and Aebi recorded these 14 anthemic tracks in Paris in 1979, and the young hat Hut label issued them on a now-rare LP. The music allowed Lacy to extend and deepen his longstanding interest in setting text to music, and at the same time it provided a perfect context for extrapolated duets with Potts, whose dedication to Lacy over twenty years of collaboration somewhat overshadowed his own creative output. This CD is the first release of Lacy's full hat Hut oeuvre, mastered from the original tapes, which CvsD acquired last year.

Steve Lacy, soprano saxophone
Steve Potts, alto saxophone
Irene Aebi, voice

Music by Steve Lacy; text by George Braque.
Recorded in Paris, December 14, 1979.
Originally issued on hat Hut Records (1R20), 1981.
Remastered at Experimental Sound Studio, Chicago, January 2015.
Reissue produced by John Corbett.
CvsDCD018