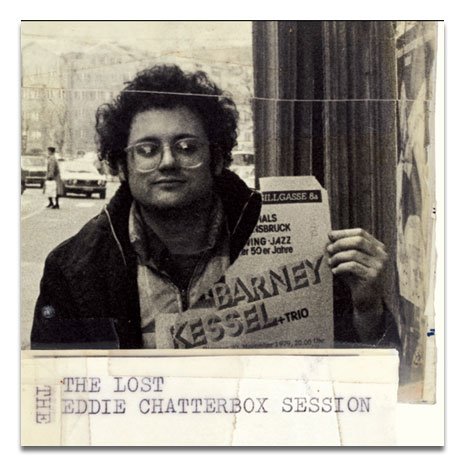 Eugene Chadbourne
--------
Dateline: Christmas Day, 1977, San Francisco. On an ailing quarter-track tape deck, in a marathon session, Eugene Chadbourne recorded a series of slide guitar solos playing compositions by the likes of Thelonious Monk, Charlie Parker, John Coltrane, and Ornette Coleman, along with a few standards and originals. Although the recording quality was imperfect, the playing was brilliant – enough so that Chadbourne was eventually convinced, a decade later, to issue it as a cassette tape, which he sold at concerts. Long precursing the slash-and-burn-and-reinvent approach to jazz songbooks now familiar from groups like News From Lulu, Chadbourne leapt into each short track with giddy abandon, introducing the piece with a nerdy spoken credit line, then ripping and tearing at it adoringly, his improvisations forcing a new view of the familiar melodies. Anyone familiar with Chadbourne's wonderful duets with Frank Lowe on Don't Punk Out!, waxed in the same period, has a general sense of his modus, but the complete commitment he gave to the project on The Lost Eddie Chatterbox Session makes it a special and wholly unique item in the manic master's chronicles. On this special CD reissue, the tracks have been tenderly but respectfully restored, eliminating some of the most distracting audio flaws but leaving the inconceivable artistry intact. Four never-released tracks have been added to the jam-packed program, as well as the original cover photo and Chadbourne's unreadable track listing, which is carefully reproduced on the interior.

1. Hackensack (Monk/2:12)
2. Dewey Square (Parker/2:11)
3. Let's Call This (Monk/2:30)
4. Reflections (Monk/2:59)
5. Off Minor (Monk/2:03)
6. San Francisco Holiday (Monk/3:05)
7. 5th of Beethoven (Coleman/1:30)
8. Byhkorbycrc (Chadbourne/1:20)
9. Raggity (Chadbourne/1:55)
10. The Twinkler (Chadbourne/1:58)
11. Back Home Blues (Parker/3:19)
12. Scrapple from the Apple (Parker/1:56)
13. I Let a Song Go Out of My Heart (Ellington-Mills-Nemo-Redmond/3:05)
14. As Time Goes By (Hupfeld/2:47)*
15. Smoke Gets in Your Eyes (Kern-Harbach/2:24)*
16. Central Park West (Coltrane/2:45)*
17. 52nd Street Theme (Monk/2:34)
18. Brilliant Corners (Monk/3:16)
19. Ask Me Now (Monk/3:48)*
20. Criss-Cross (Monk/1:13)
21. Little Rootie Tootie (Monk/3:01)
22. You Go to My Head (Coots-Gillespie/5:10)
23. Light Blue (Monk/2:25)
24. Dexter Will Be Back on Tuesday (Chadbourne/2:28)
25. Shreeve's Heaven (Chadbourne/1:38)
26. Kaiser Role (Chadbourne/2:27)
27. Artificial Feet (Chadbourne/0:59)
28. Ba-Lue Bolivar Ba-Lues-Are (Monk/4:14)
29. The Pick and the Pass (Chadbourne/1:58)
30. A Christmas Card for Bob Wills (Chadbourne/5:24)

Eugene Chadbourne, guitar

Recorded December 25, 1977, San Francisco

First released as a cassette on No Prestige Records in 1988; *previously unreleased

Remastered by Alex Inglezian at Experimental Sound Studio, Chicago.

CD design by David Giordano.

Publication editor, Corbett vs. Dempsey, Emily Letourneau.

CD produced by John Corbett and Jim Dempsey.
CVSDCD041