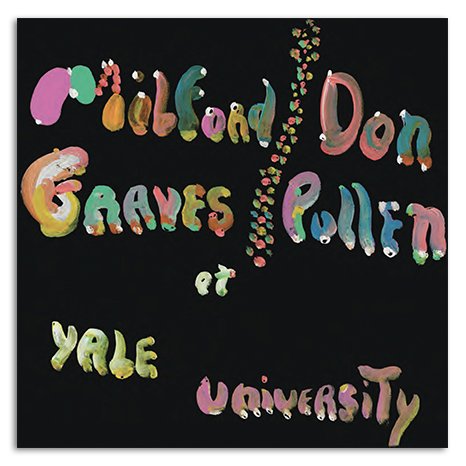 Milford Graves & Don Pullen
--------
For a performance at Yale University in New Haven, Connecticut, in spring of 1966, percussionist Milford Graves invited pianist Don Pullen to play duets. The two musicians had worked together in a band fronted by saxophonist and clarinetist Giusseppi Logan, with whom they had recorded two LPs in 1965 for ESP Disk. Graves was already a daunting presence in free music. One step at a time, he was busy transforming the role of drumming in jazz, introducing a new way of dealing with unmetered time and accomplishing this task with technique that was almost inconceivable. His experience playing timbales in Latin bands had been formative, suggesting that the snare could be used as accent rather than beat-keeper, but by the mid '60s he'd worked up a holistic approach to sound and energy that was the most radical of his improvising percussion contemporaries. And with a simpatico accomplice like Pullen, who would go on to have an illustrious career with Charles Mingus, co-fronting a band with George Adams, and as a soloist and bandleader. This early setting finds Pullen is at his most hard- hitting, and his piano concept as heard here lays to rest dubious claims of Cecil Taylorism. Inspired by their performance, Graves and Pullen issued an LP, In Concert at Yale University, Vol. 1 on their own Self-Reliance Program imprint. The vinyl is impossibly rare, especially its first copies, which sported hand-painted covers by the musicians. A second volume titled Nommo was subsequently issued, and it too is a highly prized platter. None of this music has ever been available digitally. The tapes were lost, so in putting this production together – in the works for 10 years – virgin copies of the LPs were used. One CD includes the two complete LPs together with original cover designs, a gallery of hand-painted LPs, and a photo of Graves and Pullen selling them at a Nation of Islam convention. An insert modeled after the original one presents an interview with Graves about the production of the records. This is beyond the holy grail of free music. It is as vital and challenging today as it was more than five decades ago. CvsD is honored to have collaborated with Milford Graves on this historic reissue.


Track Times

1. P.G. I (18:52)
2. P.G. II (22:53)
3. P.G. III (8:03)
4. P.G. IV (7:54)
5. P.G. V (15:38)

Milford Graves, drums and percussion
Don Pullen, piano

Recorded by Bernard Drayton at Yale University on April 30, 1966. Tracks 1–2 originally issued as In Concert at Yale University, Vol. 1 on Self-Reliance Productions (SRP 286, 1966); tracks 3– 5 originally issued as Nommo on Self-Reliance Productions (SRP LP-290, 1967). Hand-painted LP jackets by Milford Graves and Don Pullen. Cover photograph for Nommo by Roy DeCarava. Original covers designed by Graves. CD mastered by Alex Inglizian at Experimental Sound Studio, Chicago. CD designed by David Khan-Giordano. CD produced by John Corbett. The master tapes for both volumes of the Yale concert were lost. This reissue was culled from mint
copies of the LPs, transferred and noise-reduced by Alex Inglizian. The Complete Yale Concert, 1966 is released under exclusive license from Milford Graves.