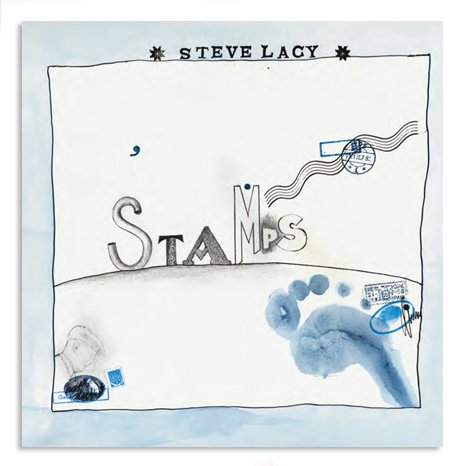 Steve Lacy
--------
Originally released in 1979 as a double-LP on Hat Hut, Stamps was Steve Lacy's first for the legendary Swiss label, and it remains one of the strongest statements of what he termed the "scratchy seventies." With the classic lineup of Lacy's soprano saxophone, Steve Potts on soprano and alto sax, Irene Aebi on cello (and singing on one track), Kent Carter on bass, and Oliver Johnson on drums, the recording catches the band live, performing Lacy's angular, intervallic compositions, using arrangements that leave the rough patina, rather than buffing things to a smooth shine. This is the first time the important music has been reissued on CD, adding a bonus track, all remastered from the original tapes. The double-disc package sports a facsimile reproduction of the gorgeous artwork by Klaus Baumgärtner, with action photographs from the concerts on the interior. A must for Lacy fans and for anyone interested in creative music.

Steve Lacy, soprano saxophone and Japanese bird whistle Steve Potts, alto and soprano saxophone
Irene Aebi, cello, violin, voice, bells
Kent Carter, bass
Oliver Johnson, drums
Originally released on hat Hut Records (hat Hut K/L, 1979). Track 4 is previously unreleased. CD 1 recorded by Walter Troxler, August 27, 1977, at Jazz Festival Willisau, Switzerland. CD 2 recorded by Philippe Quinsac, February 22, 1978, at Jazz Au Totem, Paris. Production coordination by Craig Johnson, CjR Productions.
Mastered by David Crawford at Masterdisk, New York. Cover art by Klaus Baumgärtner. LP produced by Pia and Werner X. Uehlinger. CD mastered by Alex Inglizian at Experimental Sound Studio, Chicago.
CD design by David Khan-Giordano. Production editor, Corbett vs. Dempsey, Emily Letourneau. CD produced by John Corbett. Photos by H.L. Bibbs.
CVSDCD045