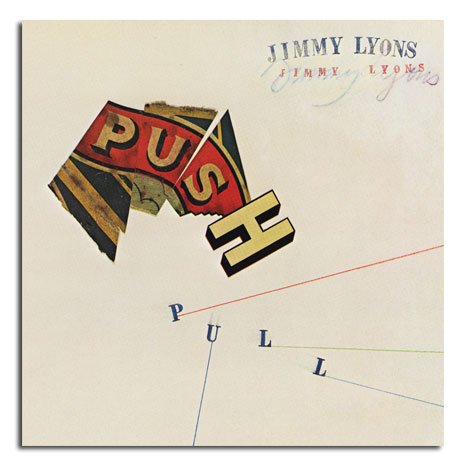 Jimmy Lyons
--------
Long known as Cecil Taylor's most reliable and loyal colleague, alto saxophonist Jimmy Lyons has a select discography as a leader, and among its best entries is Push Pull, originally issued by Hat Hut as a massive 3-LP set. Recorded during a single marathon performance at the Collective for Living Cinema in New York in 1978, Push Pull features five extended pieces, all by Lyons, with his working quintet that included his wife Karen Borca on bassoon, Hayes Burnett on bass, Munner Bernard Fennell on cello, and Roger Blank on drums. Jolting, quicksilver free jazz with terse themes and brilliant interplay, the music is quintessential Lyons – searching, pliant, and sincere. Remastered from the original tapes, this first reissue of Push Pull compiles the original tracks – two of which were split to accommodate the 20-minute limit of LP – into their original full length, fitting the whole program onto two CDs, lovingly repackaged featuring the original Klaus Baumgärtner cover.

1. Mary Mary (32:50)
2. After You Left A (15:55)
3. After You Left B (6:55)
4. Tortuga (17:40)
5. Push Pull (14:30)
6. Breakout (21:30)

Jimmy Lyons, alto saxophone
Karen Borca, bassoon
Hayes Burnett, bass
Munner Bernard Fennell, cello
Roger Blank, drums

Compositions by Jimmy Lyons.

Recorded by Karen Borca, May 6, 1978 at the Collective for Living Cinema, New York.

Photos by Ken Brunton and H.L. Lindenmaier.

Cover by Klaus Baumgärtner.

Original record produced by Pia and Werner X. Uehlinger and issued on hat Hut Records (hat Hut Y/Z/Z) as a triple LP set in 1979.

Production coordination by Craig Johnson/CjR Productions.

Remastered at Experimental Sound Studio, Chicago, 2015.

Tapes transferred at Chicago Mastering Service, 2015.

CD reissue design by Sonnenzimmer.

Reissue produced by John Corbett.

CvsDCD022