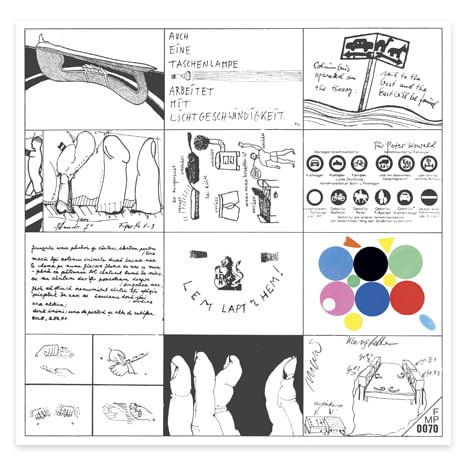 Peter Kowald
--------
The only LP featuring a band under Peter Kowald's name, Peter Kowald Quintet comes from a vital moment in the German bassist's career. A close colleague of Peter Brötzmann's in their formative years, including the saxophonist's debut For Adolphe Sax and the classic Machine Gun, Kowald had by 1972 broadened his circle of collaborators, eventually working with a who's who of global creative music. Recorded live in Berlin, released on FMP, this date documents a tensile ensemble, with an unusual lineup featuring two trombones – Londoner Paul Rutherford and the German maestro Günter Christmann – together with the less-well-known Dutch alto saxophonist (and sculptor) Peter van de Locht and brilliant German percussionist Paul Lovens. Kowald adds to the low brass when he turns from double-bass to tuba and alphorn. Spacious and fiery, these four tracks are exemplary European free music led by one of the music's foremost originals – Kowald's rough and ready bass, which was anchoring (and de facto leading) the Globe Unity Orchestra of that period, is echoed in the take-no-prisoners music of the fivesome. Mastered from original tapes, this first-ever CD release features a facsimile version of the original cover, which featured artwork by ten non-musician friends and unique hand-additions.

Track Times:
Platte Talloere (13:08)
Wenn Wir Kehlkopfoperier Te Uns Unterhalten (7:09)
Pavement Bolognaise (14:01)
Guete Luuni (2:38)

Peter Kowald, bass, tuba, alphorn
Paul Rutherford, trombone
Günter Christmann, trombone
Peter van de Locht, alto saxophone
Paul Lovens, drums

Recorded January 19 1972 Akademie Der Künste Berlin by Eberhard Sengpiel / Produced by P. Kowald / Supervision Jost Gebers / Thanks to Alex Brüninghold / For the cover Kowald asked some of his friends to design a part of it (10 on 7.5 cm each – by the way none of them a musician) / They are front left top to right bottom Heiko Hösterey / Tomas Schmit / Wulf Teichmann (Kyberpass) / Gerd Hanebeck / Krista Brötzmann / Winfried Gaul / Paul Miron / Toon Lem / Danny / Geges Margull / Peter Paulus / Dietrich Maus.