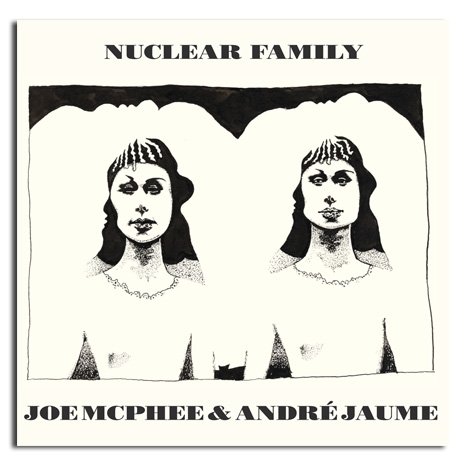 Joe McPhee/ André Jaume
--------
Multi-instrumental master McPhee and his longtime colleague, French saxophonist and clarinetist Jaume, joined forces for this studio recording in 1979 that was prepared but never released. It is primarily structured around pairs of tunes by Charles Mingus, Thelonious Monk, and Duke Ellington (or Billy Strayhorn), adding Ornette Coleman's "Lonely Woman" for good measure. The results are stunningly intimate and show the twosome's capacity for creative interplay at a fairly early stage in its unfolding. Mingus's "Pithecanthropus Erectus," which was performed by a larger group on Topology, gets pared down to its essential walking-bass-ness, while Monk's "Evidence" is taken apart, and solo spots by both men are riveting as one would expect. Part of CvsD's ongoing historical effort to unearth and reissue McPhee's important discography, this previously unknown recording will delight existing fans and make new ones.

Tracks:
1. Pithecanthropus Erectus (Charles Mingus/4:22)
2. Self-Portrait in Three Colors (Charles Mingus/3:12)
3. Evidence (Thelonious Monk/8:37)
4. Rue St. Jaume (André Jaume/6:07)
5. Blue Monk (Thelonious Monk/7:45)
6. Chelsea Bridge (Billy Strayhorn/4:02)
7. Come Sunday (Duke Ellington/4:39)
8. Nuclear (Joe McPhee/André Jaume/13:25))
9. Lonely Woman (Ornette Coleman/4:14)


Joe McPhee, alto and tenor saxophones, pocket cornet, adapted pocket cornet
André Jaume, alto and tenor saxophones, bass clarinet

McPhee plays solo on track 2.
Jaume plays solo on tracks 4 and 9.

Recorded December 15, 1979, Paris.

Originally recorded and sequenced for release on Hat Hut Records, never issued.

Mastered by Alex Inglizian, Experimental Sound Studio, Chicago.

Cover images by Karl Wirsum, c. 1964.

Interior photograph by Christian Ducasse.

Design by David Giordano.

Publications editor, Corbett vs. Dempsey, Emily Letourneau.

Produced by John Corbett.
CvsDCD031