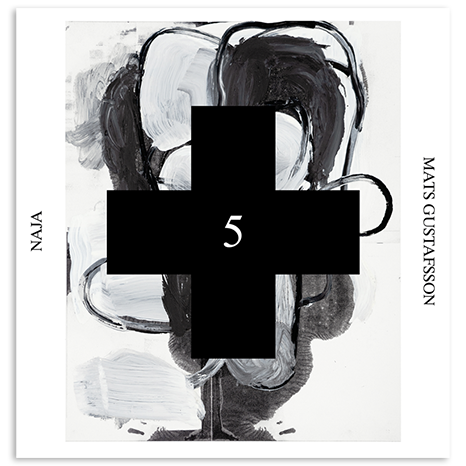 Mats Gustafsson
--------
Buy at Dusty Groove

Swedish saxophonist Mats Gustafsson might have a separate discography for his solo records. He's investigated the possibilities of unaccompanied reed music from almost every angle. Presented with the opportunity to make a new solo record under the isolation of the pandemic, Gustafsson returned to a project he'd conceptualized but never realized: the playing-card pieces of Peter Brötzmann. Although these Fluxus-like prompts are better known through the two card sets the German saxophonist created in the 1990s, which resulted in two CDs with his Chicago Tentet, Images and Signs (both released on Okka Disk), Brötzmann had in fact been using cards since the 1970s. Recording in his home studio in Nickelsdorf, Austria, Gustafsson used two of these sets of compositional prompts, one designed for the ICP Tentet and another intended as a spur for Brötzmann's own solo work. The instrumentation on Naja includes the entire saxophone family from sopranino to bass, as well as a piece for mouthpieces; this is also a rare opportunity to hear Gustafsson play more than one horn at the same time, a Roland Kirk move that he'd long ago sworn off but was prompted to do by the cards. In addition to nine pieces using the cards, Gustafsson played one non-card composition from Brötzmann's solo FMP LP 14 Love Poems. Stunningly mixed and mastered by Martin Siewert, with liner notes by Gustafsson, photos of the card boxes and the first photograph of Gustafsson and Brötzmann. Cover art, as on all Black Cross Solo Sessions CDs, by Christopher Wool.

Two boxes and a composition

1. Box 1 part 1 bass sax [5:43]
2. Box 1 part 2 bass sax [5:31]
3. Box 1 part 3 sopranino and soprano sax, 4 sax mouthpieces [3:24]
4. Box 1 part 4 baritone sax [8:05]
5. Box 1 part 5 baritone sax [5:22]
6. Alto sax nr 3 alto sax [4:49]
7. Box 2 part 1 baritone sax [0:35]
8. Box 2 part 2 soprano, alto, baritone and bass sax [9:58]
9. Box 2 part 3 bass sax [6:01]
10. Box 2 part 4 baritone sax [3:54]

Mats Gustafsson – sopranino, soprano, alto, baritone, and bass saxophones; saxophone mouthpieces

Track 6 by Peter Brötzmann (FMP – publishing/GEMA); tracks 1-5 and 7-10 by Mats Gustafsson (STIM/NcB).
Recorded Dec 14-16, 2020, by Olof Madsen at Discaholic Studios, Nickelsdorf. Mixed and mastered December 17 and 18, 2020, by Martin Siewert, Vienna. Cover design and artwork by Christopher Wool. CD design by David Khan-Giordano. Produced by John Corbett and Christopher Wool.
Thanx to Connor Bennett for creating a masterful alto sax mouthpiece. Special thanx to Peter Brötzmann. Special thanx to Christopher Wool.

CvsDCD087