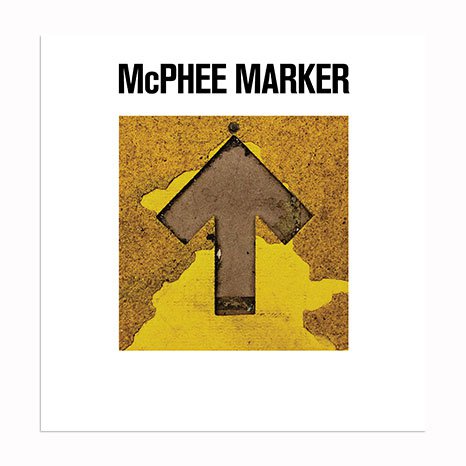 Marker and Joe McPhee
--------
McPhee Marker
McPhee Marker
12-inch 45rpm EP
CvsDEP001

Chicago-based saxophonist and clarinetist Ken Vandermark was invited to arrange a set of seventies music for a concert in 2019, and among the pieces he chose were tracks by funk legends Parliament and post-punk iconoclasts DNA.  On this 12-inch 45rpm EP, Vandermark's band Marker presents a unique take on "Night of the Thumpasorus Peoples," drawn from Parliament's 1975 LP Mothership Connection, and DNA's "Egomaniac's Kiss," which first appeared on the classic 1978 Brian Eno-produced collection No New York.  Together with the entire Marker lineup, featuring Vandermark on reeds, Andrew Clinkman and Steve Marquette on electric guitars, Macie Stewart on keyboards, and Phil Sudderberg on drums, on this one-of-a-kind affair Marker invited Poughkeespie (New York) icon Joe McPhee to be the proverbial fly in the ointment.  Applying the most unhinged version of his tenor saxophone stylings to the deep groove of George Clinton and out-James-Chancing the no wave thump of Arto Lindsay, Ikue Mori, and Robin Crutchfield, this rare disco-single-format free music release is one for your record player's auto-changer – just hit repeat!  Featuring design and artwork by Michael Dyer/Remake, uncompromisingly recorded by Alex Inglizian at Corbett vs. Dempsey's Chicago gallery, as direct to you as humanly possible.  

McPhee Marker
Egomaniac's Kiss (Lindsay-Crutchfield/2:53)
Night of the Thumpasorus Peoples (Clinton-Collins-Shider/3:40)

Joe McPhee, tenor saxophone
Ken Vandermark, tenor and baritone saxophones
Andrew Clinkman, guitar
Steve Marquette, guitar
Macie Stewart, keyboards
Phil Sudderberg, drums
Recorded at Corbett vs. Dempsey, June 19, 2021.      

Limited edition of 750 copies.