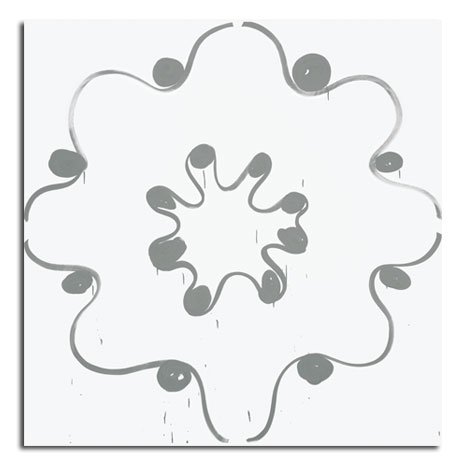 Thurston Moore/ Frank Rosaly
--------
Guitar hero Thurston Moore and improvising drummer Frank Rosaly met for a first encounter in 2012 at the Neon Marshmallow Festival, at the Burlington in Rosaly's hometown, Chicago. The results were monumental. The slow build of Moore's gigantosaur sound and Rosaly's clamorousness and gradually escalating propulsion made for an idea match over the course of an electrifying 32-minute piece, the thunderous conclusion of which left no ear unburned. Marshmallow Moon Decorum presents the full concert in all its glory, gorgeously rendered in a multi-track recording that captures both the grit and grace of their mutual ascent. The cover sports a painting by Amy Feldman, perfect visual foil for the boys and their noise.

1. Marshmallow Moon Decorum (31:36)

Thurston Moore, guitar
Frank Rosaly, drums, percussion

Recorded live at the Burlington, Chicago, during the Neon Marshmallow Festival, 11/18/12.
Engineered by Matt Hannigan.
Thank you Matt Kimmel, Ben Boye, Brian J. Sulpizio, Ibelisse Guardia Ferragutti.
Mastered at Experimental Sound Studio, Chicago.
Cover painting "Moon Decorum" by Amy Feldman, acrylic on canvas, 79" x 79".

CvsDCD028