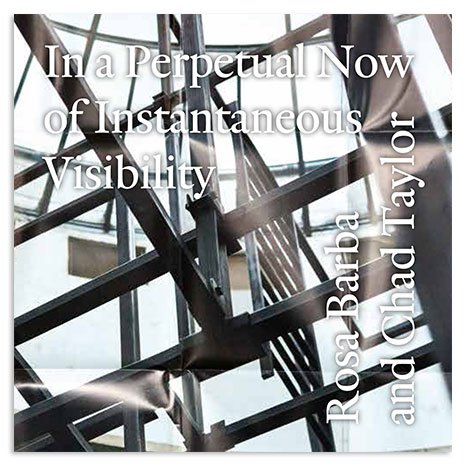 Rosa Barba and Chad Taylor
--------
Artist and musician Rosa Barba paired up with drummer Chad Taylor for their first duo record, In a Perpetual Now of Instantaneous Visibility. Documenting a September 2019 performance and installation at New York's Park Avenue Armory, part of an invitation by pianist Jason Moran, the CD's twomesmerizing tracks clock in at over 30-minutes each. Patiently built as collaborative soundscapes, they feature Barba's unorthodox conjoining of cello and film projector in which she uses the celluloid as an alternative bow, and the masterful trap-set and thumb-piano of Taylor. A low drone gently ebbs and flows, Taylor's malleted tom-toms and cymbals cresting along with the shifting dynamics of the intoned strings, sometimes polymetrical patterns emerging in pools of spectacularly soulful drumming, then receding to reveal the hums and moans of Barba's mysterious mantra. Original cover art by Rosa Barba and Rupert Smyth with an interior photo of Rosa's rig. Available in a limited edition of 500 copies.

In a Perpetual Now of Instantaneous Visibility 1 (34:00)
In a Perpetual Now of Instantaneous Visibility 2 (37:34)

Chad Taylor, drums and mbira
Rosa Barba, cello and film projector

Recorded and mixed by Sascha von Oertzen in September 2019 during the Park Avenue Armory performance and installation, for the Artists Studio series, by invitation of Jason Moran. Mastered by Alex Inglizian at Experimental Sound Studio, Chicago. Cover photo by Rosa Barba. Cover design by Rosa Barba and Rupert Smyth. CD design by David Khan-Giordano.