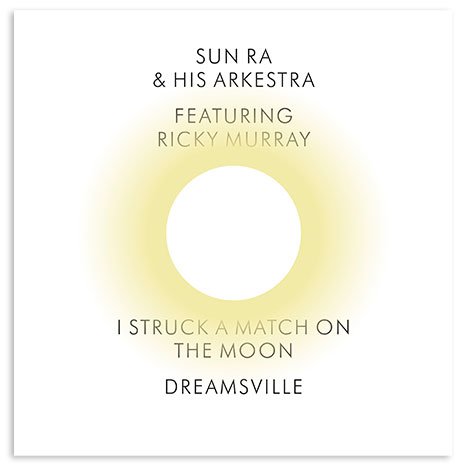 Sun Ra and His Arkestra
--------
Sun Ra and His Arkestra
"I Struck a Match on the Moon/Dreamsville"
7-inch single

In 1961 Sun Ra took off from Chicago – where he had established the Arkestra, his dedicated ensemble and the vehicle for his mission to better the planet – and with a scaled-down version of the band he landed in NewYork. Their first recording session was in Newark in October of that year. The Futuristic Sounds of Sun Ra, recorded for the Savoy label, is a beautiful document of the material they'd honed during a long residency at the Wonder Inn at the end of the Chicago period. Among tracks left in the vault from that day in the studio were these two great ballads sung by Ricky Murray, both of them redolent of the bright popcraft that had long been part of Ra's repertoire, with classic Afrofuturist themes of navigating outer space and altered destiny cloaked in sweet songs with tart arrangements. This 7-inch vinyl single is limited to 1000 copies, with full-color cover including a rare photo of the band with Ricky Murray.

Ricky Murray remembers:
"We did that at the Wonder Inn, just before going to Montreal. When we played the Wonder Inn didn't have too big a crowd but we were playing like it was a concert! In Montreal, though, we packed them in! College kids from McGill. They thought we were going to play rock 'n' roll, but Sunny [Sun Ra] said we didn't drive all this was to do that. Sunny said: 'We're going to New York.' So that was it. We had bass fiddle, drums, and about four guys in one vehicle, very tight. Ronnie Boykins' father's car broke down on the bridge on the way into Manhattan. We had an audition at The Five Spot when we first hit New York, another place called the African Room. We stayed at the Hotel Scott, a floor above Chubby Checker's room. Kinda rough when we hit New York, boy! Mean days. We were doing those songs, 'I Struck a Match' and 'Dreamsville,' also 'China Gate' and a few others that Sunny had. We had an audition also at the Village Gate I think. Marshall Allen especially liked playing 'I Struck a Match on the Moon' because he got a chance to light up a cigarette while we were singing."

CvsDS003