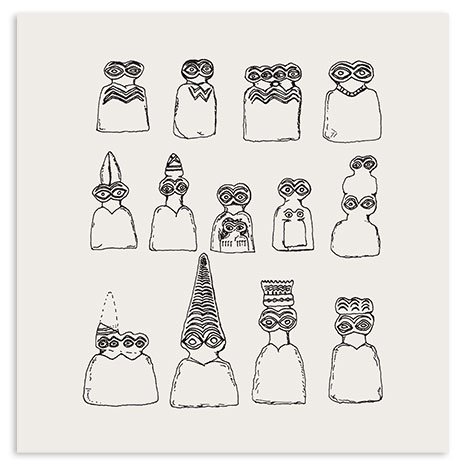 Ashbury Stabbins Duo
--------
The duo of saxophonist Larry Stabbins and percussionist Roy Ashbury was a mainstay of the London improvised music scene in the early 1970s. They recorded their lone LP, Fire Without Bricks, in 1976, and issued it in a tiny edition on the cooperatively run Bead label. Stabbins has toggled between more pop oriented projects like Working Week and Jerry Dammers Spatial AKA Orchestra and adventurous free music in bands led by Peter Brötzmann and Tony Oxley. Born in Wolverhampton and based initially in the Midlands, Ashbury gets less attention than his music deserves, but he, too, was an important figure in the period of the London Musician's Co-operative; he had left the scene by the mid-80s and worked in Media & Film Studies at St. Mary's College. The duo's music is super intimate and rooted in free jazz – sometimes recalling great American saxophone/drum twosomes, or the other major touchstone of its time from closer to home, Evan Parker & Paul Lytton, but it has its own distinct flavor. Stabbins unique approach to tenor included a flinty quality and willingness to go all in on registral extremes with direct instrumental interplay on soprano, while Ashbury deploys a vast battery of metallics from chimes to chains, wood blocks, shakers, and bowed cymbals, all augmenting his minimal basic kit, which he approaches as a series of brilliant flourishes and almost Gagaku-like extended soundscapes. Their sound on this studio recording is an important untold part of the development of British improvised music. Mastered from pristine tapes, initially planned as part of John Corbett's Unheard Music Series, this reissue has been in the works for nearly two decades. Featuring facsimile cover from the original Bead issue.

1. Rough Cut (3:22)
2. Fire Without Bricks (12:24)
3. Wych Elm (4:23)
4. Malodor (7:45)
5. Puff! (5:08)
6. Formants of the Deep (6:30)

Roy Ashbury, percussion
Larry Stabbins, tenor and soprano saxophone

Recorded at Riverside Studios, London, 1976. Originally issued on Bead Records (Bead 4, 1977). Remastered from original tapes. Mastered for CD by Alex Inglizian. Artwork supplied by Peter Riley. Layout by Tony Wren. CD produced by John Corbett.