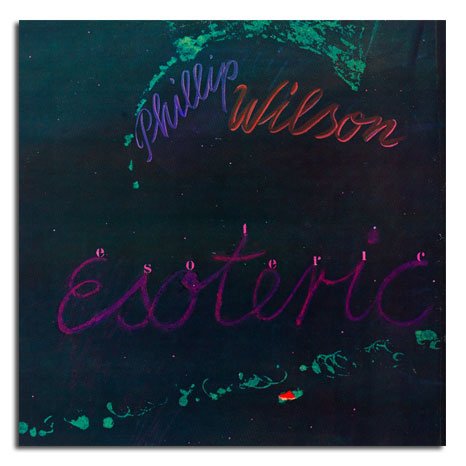 Phillip Wilson
--------
In November 1977 and May 1978, months before drummer Phillip Wilson recorded his great LP Duet with trumpeter Lester Bowie for the Improvising Artists label, Wilson hit the studio for Esoteric, a recording of solos and duets with cornetist Olu Dara. Wilson (1941-1992) was one of the key percussionists in creative music, the Art Ensemble of Chicago's early trapsman, one third of the fusion band Full Moon, and an all around fount of invention and sensitivity. In addition to his work in the jazz and improvised music realms, he was a member of the Paul Butterfield Blues Band and did session work for Stax Records in the '70s. The little known LP Esoteric, which was issued on Hat Hut Records as their twelfth release, finds Wilson in an extremely intimate mode, sometimes exploring the sonority of his kit, sometimes extrapolating on a beat, and on several tracks working with his comrade Olu Dara, one of the great figures of the loft era and a wonderfully polymath musician. Together they conjure more than an avant garde drum and bugle corps, Wilson's decisive touch and Dara's exploratory voice stretching all the way out on three dedications to Mr. Bowie. A rare taste of what the masterful Wilson does in the driver's seat, Esoteric has been remastered from the original tapes and features Klaus Baumgärtner's original cover design on this, its first ever reissue, nearly forty years since it was waxed.

CvsDCD027

1. Lester B. I (8:33)
2. Lester B. II (3:20)
3. Lester B. III (2:18)
4. Double Click (3:48)
5. The Chad (2:10)
6. Caul Call! The Eso (4:25)
7. The March and Ragtime (3:58)
8. Elephant Bossa (1:05)
9. Olu 1 (3:35)
10. Olu 2 (3:02)
11. Lost and Brash (2:56)

Phillip Wilson, percussion
Olu Dara, trumpet, horn (serpent)

Recorded in Paris by Jef Gilson, tracks 1-3 in November, 1977, tracks 4-11 on May 10, 1978.

Photo by Thierry Trombert.

Production coordination by Craig Johnson, CjR-Productions.

LP mastered by David Crawford at Masterdisk, New York.

LP produced by Pia and Werner X. Uehlinger.

Cover art by Klaus Baumgärtner.

Originally released as hat Hut Records Q, 1979.

Remastered by Alex Inglizian at Experimental Sound Studio, 2015.

CD reissue produced by John Corbett.
CvsDCD027