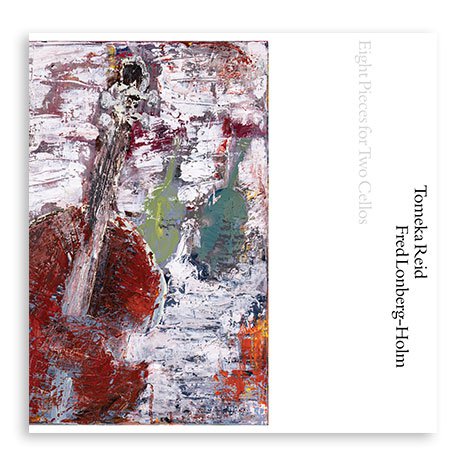 Tomeka Reid and Fred Lonberg-Holm
___________________
Repertoire for cello represents a little-explored niche of the greater jazz songbook. In 2013, cellists Tomeka Reid and Fred Lonberg-Holm turned their arrangerly and composerly attention to this terrain, assembling a selection of four originals (three by Lonberg-Holm, one by Reid) and four works by other composers. The latter include "Pluck It" by pioneering jazz cellist Fred Katz, member of the Chico Hamilton Quintet and soundtrack composer for Roger Corman films; "In Walked Ray" by intrepid hardbop bassist and cellist Sam Jones, who worked extensively with Cannonball Adderly; "Rally" by legendary bassist and cellist Ron Carter, who played with everyone from Miles Davis to Eric Dolphy to A Tribe Called Quest; and "Monti-Cello" by Harry Babsin, the least recognizable name in the group who played cello duets with Oscar Pettiford and recorded the first jazz cello solos with Dodo Marmarosa Trio in 1947. These new takes on old charts provide a storied backdrop and contemporary diving-board for Reid and Lonberg-Holm. By turns achingly beautiful – utilizing all the woody resonance of the twinned instruments – and probingly exploratory, they pay reverence to and also rethink their predecessors' music. Alongside these historically-mined tracks are the player's own deeply engaging compositions. Reid's "Alla Mingus For La Bang" pays homage to one stringsman by way of another: bassist Charles Mingus to violinist Billy Bang. Lonberg-Holm's "Fragile," C'mon," and "How Can We?" all investigate the bowed and pizzed cosmos of the celli with devilish relish. Gorgeously recorded direct-to-stereo sans audience at Chicago's Logan Art Center, with a cover that sports a painting by Lonberg-Holm.
Recorded at Logan Art Center, Chicago, direct-to-stereo by David L. Allen on September 21, 2013.
Prepared for release by Gordon Comstock.
Mastered by Alex Inglizian, Experimental Sound Studio.
Cover painting, "Promenade," FLH.
TRACKLIST:
SIDE 1
Pluck It
Alla Mingus For La Bang
Fragile
In Walked Ray
SIDE 2
Rally
C'mon
Monti-Cello
How Can We?
CvsDLP004