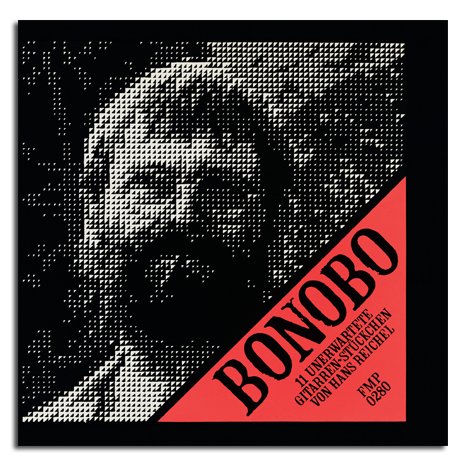 Hans Reichel
--------
Second LP in the catalog of German guitarist and instrument inventor Hans Reichel (1949-2011), a program of microtonal string investigations that is still beguiling and fresh four decades later. Originally released by FMP in 1976, with a hilarious cover by Reichel himself. Never before available on CD, remastered from original tapes, packaged with gatefold and tip-on cover reprinting the original design. Like Reichel's debut, a super-rare slice of musical otherness.

1. Gier I (2:17)
2. Peter Zweifel (2:41)
3. Lurch (3:26)
4. Toeni (1:31)
5. Moor (5:17)
6. Bonobo II (3:30)
7. Bonobo I (3:59)
8. Mariahilf (2:31)
9. Des Jägers Klage (2:52)
10. Nicht Sand, Sondern Popel Im Getriebe (1:30)
11. Gier II (7:51)

Hans Reichel, guitar

All compositions by Hans Reichel.
LP originally released on FMP (FMP 0280, 1976).
Recorded by Jost Gebers and Joachim Ehrig (track 6) at Conny's Studio, Berlin, in October 1975. Track 6 was recorded in July 1975, and is the only piece to use overdubbing.
LP produced by Jost Gebers.
LP design by Hans Reichel.
Front photograph by Petra Osvatic; back photograph by Hans Reichel.
CD design by David Giordano. Publication editor, Corbett vs. Dempsey, Emily Letourneau. CD produced by John Corbett.
CVSDCD034