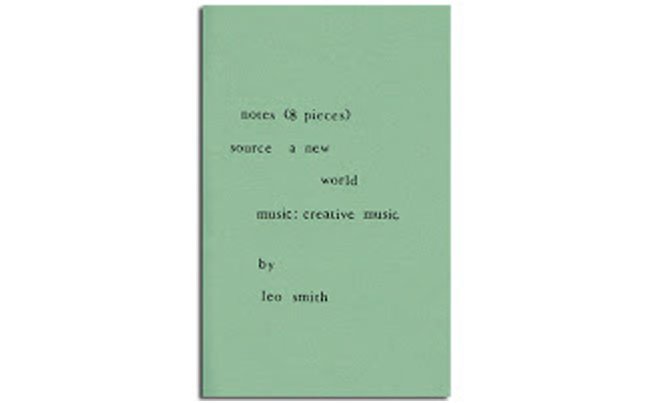 Wadada Leo Smith, notes (8 pieces), reviewed by the Free Jazz Blog
May 22, 2016
CHICAGO – notes (8 pieces): source a new world music: creative music by Wadada Leo Smith was originally self-published in 1973 in a run of 200 copies. The current edition was reprinted in an edition of 1000 by Corbett vs Dempsey to accompany the exhibition Wadada Leo Smith – Ankhrasmation: The Language Scores, 1967-2015 presented October 11-29, 2015 at The Renaissance Society of the University of Chicago.

notes is (or was) Smith's attempts to lay down his philosophy as an improviser. After the dedication and a quote from Addison Gayle, Jr., the first we see of Smith's writing is an afterward as prologue, which makes a lot of sense for this book. A description of the AACM follows, covering the organization's goals, history, and educational programs. "The contribution of the AACM to creative music is in evidence throughout the musical world" is just as true in 2016 as it was in 1973.
CREATIVE MUSIC (one of the few uses of capital letters in the text), thoughts from an improviser,and (sources) a new world music: creative music the improvisors & improvisation all lay bear Smith's ideas of what it means to be an improvisor/composer, the history of creative music, and how to keep this music alive in the future. Smith's take on the history of this music alone is worth the price of the book.
You can check out the full online article here.