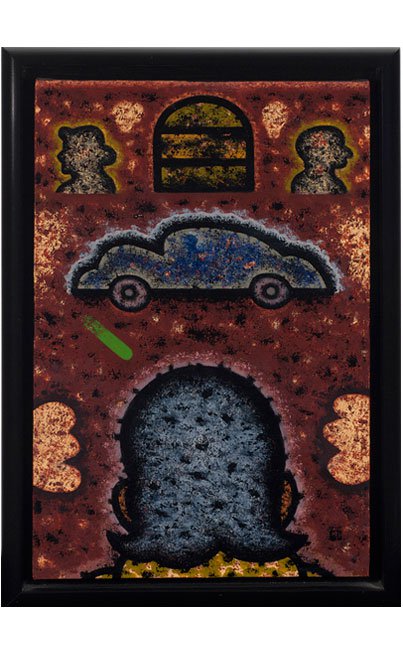 Touch and Go: Ray Yoshida and his Spheres of Influence
Nov. 13, 2010
CHICAGO – Presented in the Sullivan Galleries of the School of the Art Institute of Chicago and curated by John Corbett and Jim Dempsey, Touch and Go is the largest and most extensive gathering of works ever devoted to the influential painter and collage-maker, Ray Yoshida (American, 1930–2009). This exhibition is the first large-scale show since the artist's death, and the first to comprehensively examine Yoshida's oeuvre in relation to his life in an educational institution, both as a student and a teacher.
Yoshida was a driving force in the Chicago art world for nearly half a century.  Born in Hawaii, he received his undergraduate degree from the School of the Art Institute of Chicago (SAIC) in 1953, and attended Syracuse University for his MFA in 1958. The following year Yoshida returned to Chicago, and SAIC, and began a teaching career that would span four decades.  Working primarily as a painter and collagist, Yoshida was formally resourceful, subtly humorous, and often startlingly original. Movement between abstraction and figuration in his work resulted in an art historical arc that was at once logical in its development and full of surprising turns and reprises. In the early 1960s Yoshida was celebrated for his earthy, soft, and painterly canvases. Gradually, over the next decade, his style morphed into a hard-edged, pop aesthetic. In the late 1960s he began to paint and collage works steeped in rigorous studies of folk and self-taught artists; vernacular imagery including street signs, tattoos, and commercial advertising; and perhaps most notably, mainstream and underground comics.  One of Yoshida's signature ideas was the result of a direct intervention in comic art, his important "comic specimen" collage series in which he appropriated fragments from comic books, arranging them in neat typological categories or amassing them into surrealistic body-part aggregates.
Parallel to these artistic explorations, as a professor Yoshida helped stimulate a cadre of young Chicagoans with their own unique sensibility – the brash, iconoclastic artists known as the Imagists.  Most of the Imagists (including Roger Brown, Ed Flood, Art Green, Philip Hanson, Jim Nutt, Christina Ramberg, Suellen Rocca, and Barbara Rossi,), along with several subsequent generations of budding artists, studied at SAIC with Yoshida.  Indeed, understanding Yoshida's legacy as a teacher, and more generally as a part of the larger Chicago art community, is arguably essential to a full understanding of his artwork and the significant developments it underwent during his lifetime. Yoshida was uncommonly open to input from his students, taking inspiration in his own work from their new discoveries. Yoshida was a sympathetic yet brutally honest, sometimes productively enigmatic instructor, and many of his relationships with his SAIC students quickly developed into collegial friendships. He supported generations of young Chicago artists as they emerged into the public sphere, and engaged with them privately in a vigorous intellectual exchange.
The exhibition runs from November 13, 2010 – February 12, 2011.
A full-color, 144-page catalog accompanies the exhibition.