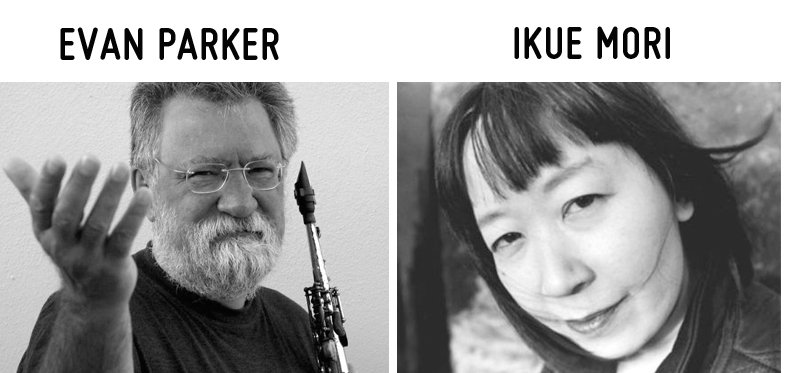 The Instant Award in Improvised Music 2019 Recipients
Dec. 17, 2019
CHICAGO-  The Horse With No Name Presents…..The Instant Award in Improvised Music 2019 Recipients.

In its second manifestation, the Instant Award goes to two esteemed members of the international improvised music community.
One of the pioneers of European freely improvised music, Evan Parker (b. 1944) has been a cornerstone of the British scene since the late 1960s. His groundbreaking work on tenor and soprano horns helped revolutionize the saxophone, opening up entire new realms of possibility that Parker has explored with uncommon tenacity. It has been claimed, plausibly, that Parker's playing constitutes the next great transformation in the instrument since John Coltrane, whose music was a great inspiration to him. Parker's solo soprano recordings, starting with those on Incus, the artist-run label he co-founded in London, and more recently on his Psi imprint, have charted his new discoveries in minute detail. But Parker's dedication to the art of group improvisation has also produced some of the practice's signal documents, including classics like Topography of the Lungs and Karyobin, as well as substantial discographies simply dedicated to his trio with bassist Barry Guy and percussionist Paul Lytton and Alexander von Schlippenbach's longstanding trio. Parker's Electroacoustic Ensemble has grown from its inaugural 1990 sextet to include nearly 20 members from different corners of the free music ecosphere.
Ikue Mori (b. 1953) started her career in 1977 as Ikue Ile, transplanted from Japan to Manhattan's East Village, where she played drums with the No Wave band DNA, alongside guitarist Arto Lindsay. An autodidact, she took to percussion immediately, developing a distinctive personal style that helped set the band apart. Mori soon went on to become a key member of the downtown New York improvised music scene, where she concentrated on drum machines and samplers. She began an ongoing collaboration with saxophonist John Zorn and has appeared on many of his recordings, including early classics such as Locus Solus and Godard/Spillane. (Also an accomplished visual artist, Mori has designed many CDs on Zorn's Tzadik label.) Bridging the improvised music, experimental music, electronic music, and rock worlds, Mori has developed a singular approach to freely improvised laptop music, working with harpist Zeena Parkins in the duo Phantom Orchard and with Zorn and singer Mike Patton as Hemophiliac, and performing and recording with musicians from across the improvising spectrum, including pianist Craig Taborn, saxophonist Ken Vandermark, pianist Sylvie Courvoisier, trumpeters Dave Douglas and Butch Morris, and guitarists Fred Frith and Thurston Moore.
Underwritten by an anonymous patron and musical devotee, the Instant Award in Improvised Music is presented to two outstanding improvisors, both of whom receive an unrestricted award of $50,000. The inaugural 2018 Instant Award recipients were Susan Alcorn and Joe McPhee. Corbett vs. Dempsey is proud to be the official mouthpiece for The Horse With No Name.