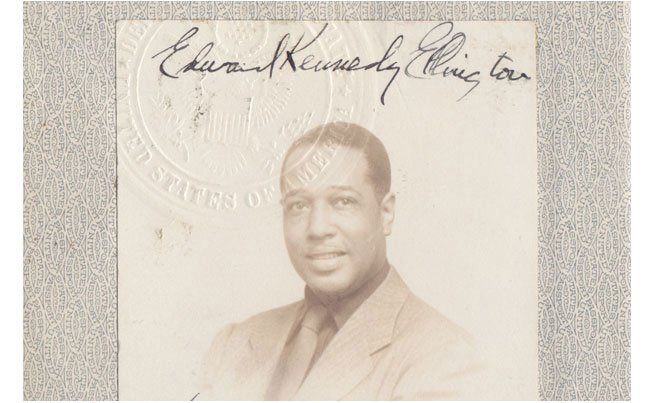 Scar, Left Cheek at Art Cologne 2013
April 1, 2013
COLOGNE – Corbett vs. Dempsey's booth exhibition at Art Cologne 2013 is titled Scar, Left Cheek, after a descriptive line in Duke Ellington's c.1939 passport, which will be on display. The year 1939 was very good for the American bandleader, pianist and composer Duke Ellington. He was at the helm of one of the finest ensembles, the legendary Blanton-Webster band, with revolutionary bassist Jimmy Blanton and tenor saxophonist Ben Webster. In that same year, Ellington began his long association with Billy Strayhorn, who came up with the signature composition "Take the A Train" in their first season working together. Ellington's passport is a schematic diary of the period, showing him touring Europe even as war was brewing. The orchestra was not permitted to perform in Germany on the 1939 European tour — jazz was banned by the Nazi government — and Ellington's train was detained for hours in Hamburg, en route to performances in Sweden.
In keeping with the photographic theme of the passport, Corbett vs. Dempsey's booth will have a selection of vintage photographs and photo-prints by Ralph Arnold, Weegee (Arthur Fellig, Jr.), Walter Hamady, Clarence John Laughlin, and Ralph Eugene Meatyard.
We will present a new series by Arturo Herrera (a set of ten silkscreened and altered books), new large paintings by Joyce Pensato and Molly Zuckerman-Hartung, and a selection of vibrant and fantastical drawings by Karl Wirsum. We will also show three films never before screened in Germany, all with jazz soundtracks, by Christopher Wool, Cauleen Smith, and David Hartt respectively.
Art Cologne runs from April 19–22, 2013. A full-color, 28-page, passport-inspired publication will be available at the booth.
————————————————————————————————————————
TOP: Detail of Duke Ellington's c.1939 passport, BOTTOM: Karl Wirsum, Untitled, 2000, colored pencil and graphite on paper, 18 x 29 inches
Installation shots (below)
NEWS FLASH!