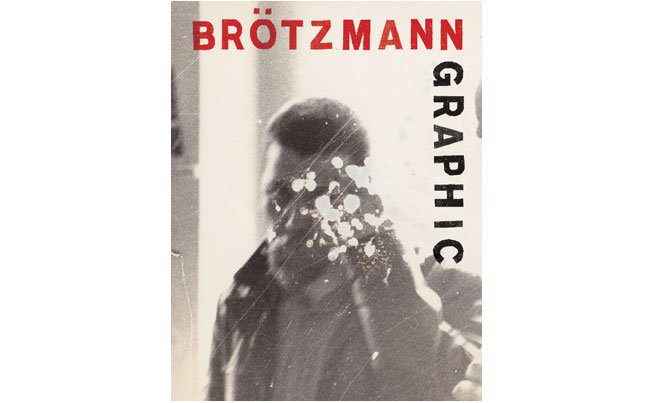 Rice University to host exhibit and concert series by Peter Brötzmann
Oct. 8, 2013
HOUSTON – Rice University's Department of Visual and Dramatic Arts will host an exhibit by internationally acclaimed German artist and musician Peter Brötzmann this fall. "Peter Brötzmann Graphic: Design Work 1958-2013" will be on display Oct. 8-Nov. 14 at the Rice Media Center's Visual and Dramatic Arts Main Gallery.
The exhibit will be kicked off by a concert series featuring Brötzmann and Japanese instrumentalist and singer-songwriter Keiji Haino Oct. 7-9. The opening reception will take place at the Rice Media Center immediately following a solo concert by Brötzmann, which will take place Oct. 8 at 8 p.m. at Rice's James Turrell "Twilight Epiphany" Skyspace.
Brötzmann was trained as a visual artist in his hometown of Wuppertal, Germany, in the late 1950s, and his early musical career as a saxophonist and clarinetist was paralleled by his first art exhibitions in Holland and Germany. Brötzmann assisted Nam June Paik on "Exposition of Music-Electronic Television," Paik's first installation at Galerie Parnass in 1963, and he participated in Fluxus events in the mid-1960s.
Since that time, along with large-scale oil paintings and delicately lyrical watercolors, Brötzmann has amassed an oeuvre of small constructions, often using found or fabricated wooden boxes as both support and frame, sometimes integrating metal elements including cans, can lids and rusted industrial detritus. In recent years, retrospectives of Brötzmann's artwork have been displayed in Sweden and Germany.
The exhibit was curated by Chicago gallerist, curator and music historian John Corbett. The opening reception takes place Oct. 8
For a campus map and parking information, visit http://rice.edu/parking. For more information about the exhibit and Rice's Department of Visual and Dramatic Arts, visit http://arts.rice.edu/. For more information about Brötzmann and Haino's concert series, see http://news.rice.edu/2013/09/26/rice-university-to-host-concert-series-by-peter-brotzmann-and-keiji-haino-oct-7-9/.
——————————————————————————————————————-
Keiji Haino: SOLO
Monday, October 7, 2013, 8pm
Barnevelder Movement/Arts Complex
Peter Brötzmann: SOLO
free at James Turrell's 'Twilight Ephiphany' Skyspace
Tuesday, October 8, 2013, 8pm
Rice University
Peter Brötzmann/Keiji Haino: DUO
Wednesday, October 9, 2013, 8pm
at Rice Media Center, Rice University.
Keiji Haino (Japan): vocals, guitar
Peter Brötzmann (Wuppertal, Germany): saxophones, clarinets
Two of creative music's most iconic and monumental voices join forces in a North American debut.
The inscrutable Keiji Haino (b. 1952, Chiba, Japan) is both an improvising instrumentalist and a singer-songwriter who uses volume, distortion, and theatricality in the extreme to manifest a uniquely personal vision of what music can be. Appealing to fans of rock, improvisation, damaged blues, psychedelia, minimalism, and drone music, Haino's protean output is enhanced by a distinctive personal mystique: he is never seen without black clothes and sunglasses, and his live performances are among the most unpredictable in modern music. Haino began his career in the early 1970s, when he collaborated with psychedelic multi-instrumentalist Magical Power Mako and film composer Toru Takemitsu. By the end of that decade, he formed Fushitsusha, the group that could arguably be the definitive improvising power trio. Though he has performed on a remarkable (and unpredictable) range of instruments, he is known for a consistent and singularly cathartic embodiment of sound exploration. As an electric guitarist, he has created some of the most physical and earth-shattering monuments of sound ever produced on the instrument. As a vocalist, Haino goes deep into his self, communicating the ecstasy and anguish of an inner-world. His Texas debut in 2007 featured performances  exclusively on gamelan and other percussion instruments, followed by a howling electric guitar concert. Haino opens this three-night festival on Monday, October 7th with a solo concert at Barnevelder Movement Arts Complex.
For over forty years, the groundbreaking German multi-reedist Peter Brötzmann (b. 1941, Remscheid, Germany) has peeled the paint off concert halls with his massive tone, rough timbre, and relentless attack. Brötzmann studied painting at the Art Academy of Wuppertal in the late 1950s and soon began associating with the Fluxus movement, working pioneers of the movement like Joseph Beuys and Nam-June Paik.  Disillusioned with art galleries and exhibitions, however, Brötzmann refocused his creative efforts on music.  In 1968, with an eight-piece group, he recorded and self-issued Machine Gun, an incendiary LP that documented the leading voices of the burgeoning European free jazz revolution. In the decades since, Brötzmann has released over fifty albums, thus solidifying himself as a pioneer of the European free jazz movement.  His success was not limited to Europe, however, as he has rampaged his way around the globe, joining forces with fellow travelers such as Han Bennink, Derek Bailey, Cecil Taylor, Bill Laswell, William Parker, Joe McPhee, and countless others.  On Tuesday, October 8th at 8pm, Brötzmann will perform a free solo set at James Turrell's 'Twilight Epiphany' Skyspace at the Suzanne Deal Booth Centennial Pavilion, immediately followed by the opening reception for 'Peter Brötzmann: Graphic, Design Work 1958-2013' at the Rice Media Center.
Haino and Brotzmann's musical partnership dates back to April 1996 when a Japanese tour yielded the CD 'Evolving Blush or Driving Original Sin.' Their collaboration was further developed during a handful of subsequent engagements including the 2008 Berlin JazzFest and an appearance at London's Cafe Oto in 2011. They share an uncompromising individualism, and a reputation for extreme and powerful expressions. But a more in depth exploration of both artists reveals music with a more vulnerable and lyrical core, music with roots in the blues. The two artists make their North American debut as a duo on Wednesday, October 9th at the Rice Media Center.
These concerts are co-presented with the Rice University Department of Visual and Dramatic Arts, the Shepherd School of Music, and the Chao Center for Asian Studies.