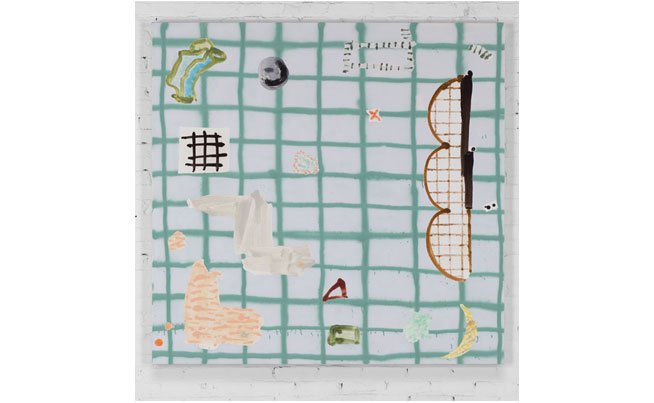 Rebecca Morris one of 14 "Painters to Watch" in 2014
Dec. 20, 2013
NEW YORK – For the Huffington Post, publisher Steven Zevitas (New American Paintings) names Rebecca Morris as one of 14 "Painters to Watch" in 2014.
Artists kept making paintings in 2013, and they did so in ever more inventive ways. If any single word can sum up the overriding concern of many younger artists over the past few years it is process. As of late, many painters have defined themselves not so much with a specific image or style, but with the way in which they go about "producing" their work. Fire extinguishers, bleach, the sun, printing technologies and even spaghetti have all been employed in the quest for aesthetic advancement. For these artists, the way in which an artwork is made becomes deeply embedded in the meaning of their work. The results of such technical explorations can occasionally come of as gimmicky, but, when successful, they can lead to extraordinary art and new ways of thinking about the medium of paint.
What does painting hold for 2014? If a quick survey of upcoming museum shows, including the 2014 Whitney Biennial is any indication, it will be more widely exhibited and talked about than ever, and mature artists such as Dona Nelson (a 2012 Painters to Watch pick) and Suzanne McClelland will, more and more, have their long overdue day. I will also go out on a limb and say that, after several years where abstraction has been the dominant language of painting, representational work will start to mount a comeback. Among the hundreds of artists I consider each year while publishing New American Paintings, I have noticed a considerable uptick in the number of young painters working with recognizable imagery, some in, dare I say it, almost traditional modes. (And yes, I am aware that representational painting never left, but the institutions that make up the so-called art world have been preoccupied with other things in recent years.)
Over the past year I conducted dozens of studio visits, traveled to numerous art fairs, and saw hundreds of gallery and museum shows. The list of Painters to Watch in 2014 is made up of some new discoveries, a few artists who, in my mind, presented breakout work this year, and a few old favorites who deserve wider attention. For the purposes of this list, I am defining the activity of painting as broadly as possible. Traditional definitions of media have become less and less important for emerging artists, and, no doubt, some of the listed artists would not consider themselves to be painters per se.
Who is on your list?
Rebecca Morris:
Hawaiian-born Rebecca Morris has been actively exhibiting since the mid-1990s; I guess it is fair to say that she is a mid-career painter. Her inclusion in the upcoming 2014 Whitney Biennial is well deserved, and sure to generate a lot of new fans. Morris is, and always has been, very much a painter's painter. Like Amy Sillman and Charline Von Heyl, she displays the kind of formal inventiveness that simply can't be taught…you either have it, or you don't. Morris' large-scale paintings exhibit a sensitivity to the medium that is rare. At the end of the day, her work is simply stunning to behold.
http://www.huffingtonpost.com/steven-zevitas/14-painters-2-to-watch-in_b_4460397.html