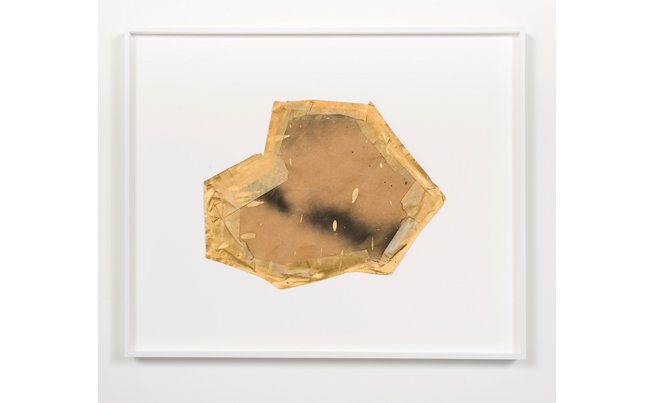 Rebecca Morris in Reveal the Rats at The Pit
Feb. 13, 2016
LOS ANGELES – Reveal the Rats features  artists Rebecca Morris, Sterling Ruby, Anna Betbeze, Lara Schnitger and Despina Stokou. 
The Pit is pleased to announce Reveal the Rats, a group exhibition featuring Anna Betbeze, Rebecca Morris, Sterling Ruby, Lara Schnitger and Despina Stokou.
A common misbelief concerning rodents, particularly rats, is that they are destructive due to their ability to inhabit, transform, and thrive in the substructures of homes.  In their ability to transform the bones of a building the rat is actually a builder, a creator, an architect. The artists in this exhibition share an analogous relationship to the rat in that their practices involve creating works through investigating, deconstructing, and repurposing the concepts and structures associated with creating a painting.
All five artists incorporate aspects of collage, quilting, textile, and fashion and/or graphic design to create fractured and fragmented paintings. The five artists have unique approaches to image making, where they incorporate a process of negation; one that is at once, destructive and generative.
Some of the works included in the exhibition utilize non traditional techniques of painting, such as Betbeze using fire to burn through found afghans, and Ruby using leftover studio materials, debris and bleached out fabrics to collage and build compositions. Similarly, Schnitger's textile paintings employ collage and the reductive process of bleaching to create her symbolic, figurative works.
Other artists in the show work within the tradition of painting, oil and canvas. Morris' canvases subvert the viewers expectations of a graphic composition by using layers of thin washy oil paint rather than flat, opaque fields of color generally associated with graphic image making creating paintings within paintings. Stokou layers text and repeated symbols as an alternative to abstract brush gestures that break down the meaning of the appropriated icons (whether they be letters or images) in order to create new meaning.
The opening reception for Reveal the Rats will be Saturday, February 13, 2015. A risograph printed zine with writing by Lia Trinka Browner and Adam D. Miller has been designed and produced in an edition of 200.  It will be available for purchase at The Pit's zine shop and online shop.