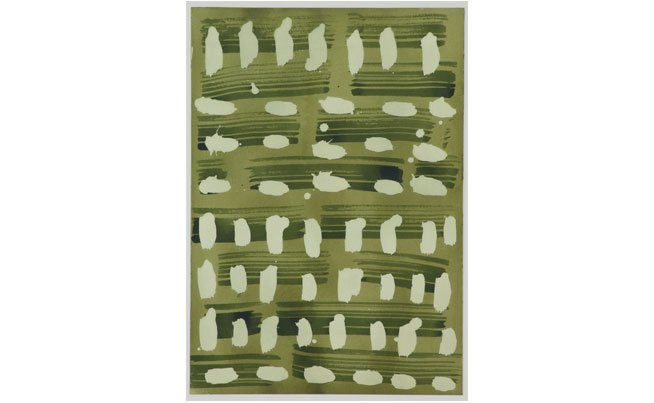 Rebecca Morris at Stephen Wirtz Gallery
Jan. 9, 2014
SAN FRANCISCO – On January 9th, Rebecca Morris joins artists Maysha Mohamedi, Ruby Neri, and Laurie Reid in The Optimists at Stephen Wirtz Gallery.
January 9 – February 22, 2014
Opening reception: Thursday, January 9, 5:30-7:30 PM
Press Release:
Stephen Wirtz Gallery presents The Optimists, an exhibition of new work by Maysha Mohamedi, Rebecca Morris, Ruby Neri, and Laurie Reid—artists whose paintings, drawings, and sculptures vary in style and form, yet are connected by an obsessive devotion to studio practice, an enduring commitment to abstraction, and an improvisational openness to free association and chance. Each artist uses her chosen materials as a means of exploring the unknown in ways that balance intuition and intellect, emphasizing a primal expressiveness.
Ruby Neri's maverick sculptural works in cast plaster, ceramic and sparsely applied paint present primordial tableaux of objects and figures that feel imbued with movement, rendered in hues both muted and vibrant.  Maysha Mohamedi's large-scale oil paintings on Masonite are remarkable for their vigorous physicality, repeating abstract marks—often applied directly by hand—that provide glimpses into an associative process of playful expression.
Rebecca Morris's work in the exhibition includes several highly coloristic paintings of multi-layered ink and watercolor on paper, the spontaneous source materials that often refresh and inspire her abstract works on canvas. Dazzling and often quite humorous, Morris's drawings show her special manner of using formal means to prod and pry at other kinds of meaning, be they connotative, emotional, or literal. Like Morris, Laurie Reid's pieces in the exhibition are a departure from her best-known work. These pieces on canvas and linen highlight the experimental approach of her constantly evolving studio practice.
The Optimists' inspiration comes from James Joyce's famous words in Portrait of the Artist as a Young Man—"He was alone. He was unheeded, happy, and near to the wild heart of life." According to Reid, "What motivates an artist to return to the studio time and time again? Surely, among other things, it is an almost feverish optimism—or a sense that, no matter how long the wait or how difficult the work, something interesting and meaningful will come of it—that one can indeed approach, in this manner, 'the wild heart of life.'"
—————————————–
Maysha Mohamedi received her MFA in painting from CCA in 2011, and her BS in cognitive science from UC San Diego in 2002. Her work was recently included in Voulkos, Inspired at the Central Arts Passage/Kala Art Institute in Berkeley, and will be included in the upcoming three-person exhibition Folding the Blanket of Time at Park Life Gallery in San Francisco.
Rebecca Morris lives and works in Los Angeles, and received her MFA from the School of the Art Institute of Chicago, Chicago, IL in 1994. Her work will be featured in the upcoming 2014 Whitney Biennial. Other recent exhibitions of Morris's work include Southafternoon at Kunsthalle Lingen in Germany (traveling later this year to Bonnefanten Museum in Maastrict, Holland) and an upcoming solo show at LAXART in Los Angeles. In 2005, she was the subject of a major solo show at the Renaissance Society.
Ruby Neri was born in San Francisco and lives and works in Los Angeles.  She received an MFA from UCLA in 1998, and a BFA from the San Francisco Art Institute in 1994.  Her work was recently featured in Energy That Is All Around, a landmark exhibition curated by Natasha Boas for the Walter and McBean Galleries at the San Francisco Art Institute, featuring the key members of the San Francisco Mission School.  The exhibition travels to the Grey Art Gallery, NYU, in April.  Neri is represented by David Kordansky Gallery in Los Angeles, where she had a solo exhibition in 2012, concurrent with her inclusion in Made in L.A. 2012, organized by the Hammer Museum and LAXART, Hammer Museum, Los Angeles, CA.
Laurie Reid lives in Berkeley and works in Oakland. She received a BA in French Literature in 1986 from Reed College and an MFA from CCA in 1996.  In addition to showing regularly at Wirtz gallery, she has shown at Et Al in San Francisco, Morgan Lehman Gallery in New York, Steven Zevitas Gallery in Boston, and Gallery Joe in Philadelphia. Her work was featured in the 2000 Whitney Biennial, and is included in the permanent collections of The Museum of Modern Art, The Whitney Museum of American Art, The Hammer Museum, The National Gallery and SFMOMA among others. She has work in upcoming shows at Et Al, The Berkeley Art Museum and Reserve Ames, LA.
 Stephen Wirtz Gallery  49 Geary Street, 3rd Floor San Francisco, CA 94108 (415) 433-6879