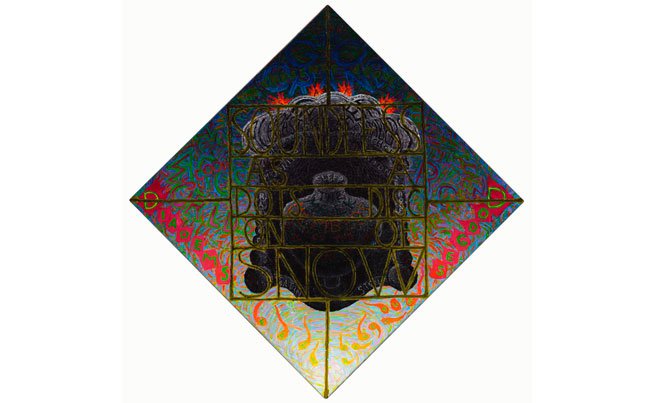 Philip Hanson in group show at U.S. Blues
July 25, 2015
BROOKLYN – Philip Hanson featured in group exhibition at U.S. Blues, Leaves of Sage and Foot of Mammal on a Smooth Yellow-ochre Background. 
Robert Bittenbender
Allison Branham
Elizabeth Englander
Philip Hanson
Lee Maida
Alissa McKendrick
Jeanette Mundt
Dakotah Savage
July 25th-August 30th, 2015
Opening reception:
Saturday, July 25th, 2015
7-10pm
The orchard speaks first
A yellow tone in its breath-
sighing through cambium.
Wearing time like a stain-
Its leafless branches dressed in hollow vessels
sweating nervously
like the pores on a belly
pushing outward
As leather yolks seep out from behind their lemon shells
Forming a wet mask over the face of what was.
In lemon, as in yolk-
in mask, as in shell-
actors all, with characters broken-
Hiding their breath beneath holes in the fields-
Feeding lines to a throat
pushing breath into bladder
And with dilated flesh
relaxing the womb where the yolk once slept
Now boiling out through perforated earth-
a noiseless river over seedless ground
Irrigating the fields in slow yellow.
Making room-
the orchard drinks
as the stage pours over, and into.
As the fruit of this hollow is none to surface
while lemons rot
an exit is made
Pressed to the sage, chaffed crisp from the dirt-
When character breaks, so follows the yolk
Blind to the cue
The worst actor remains
A bathing ghost-
embalmed and unshelled
soaked in remnant ochre.
Click here for images and more information.