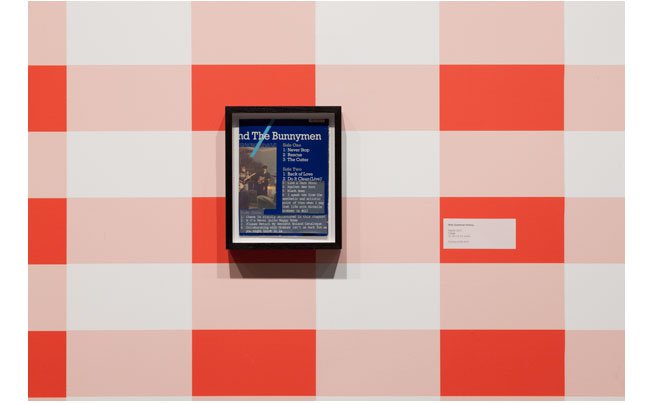 Molly Zuckerman-Hartung in I Work From Home at MOCA Cleveland
Nov. 1, 2013
CLEVELAND – I Work From Home, Michelle Grabner's first comprehensive solo museum exhibition, includes work by gallery artist Molly Zuckerman-Hartung. The exhibition runs through February 16, 2014.
Press Release:
I Work From Home, Michelle Grabner's first comprehensive solo museum exhibition, presents a survey of over 200 works from 1993 to the present, including paintings, drawings, paper weavings, prints, video, and sculpture. All are part of Grabner's extended investigation of appropriation, repetition, and the aesthetics and social dynamics of the domestic sphere. In its profusion and chronology, the exhibition positions the studio as core to Grabner's remarkably diverse output, while considering her pursuits of criticism, curating, and art making as inextricably linked territories.
Collaboration plays a central role in Grabner's practice. I Work From Home includes a full selection of video works authored by CAR (Conceptual Artists Research), a collaborative formed by Grabner, her husband Brad Killam, and their two young sons in the early 1990s. Also on view are new projects by artists David Robbins and Gaylen Gerber, both of whom Grabner has often worked with. Several mobile sculptures by Grabner and Killam animate the exhibition, using Grabner's finished canvases as building blocks to which other artworks and objects are attached. A new mobile, their largest to date, has been commissioned for the Museum's three-story atrium.
The exhibition features a replica of The Suburban, an artist project space Grabner and Killam founded in 1998 in their backyard in Oak Park, IL. Converted from an 8 x 8 foot storage shed and positioned in the suburbs—typically thought of as peaceful and humdrum—The Suburban offers an alternative platform for contemporary art outside of its typical hierarchies. Over the years, The Suburban has hosted the work of over 200 artists, both emerging and internationally known. At MOCA Cleveland, The Suburban will present installations by Karl Haendel, Michael Smith, Amanda Ross-Ho, and Jessica Jackson Hutchins.
MOCA Cleveland will also be publishing a monograph, featuring documentation of the comprehensive exhibition, along with contributions by David Norr, Rose Bouthillier, Dan Byers, Reto Thüring, Maika Pollack, Molly Zuckerman Hartung, David Robbins, and Peter Ribic.
Organized by David Norr, Chief Curator. The exhibition runs from November 1, 2013 — February 16, 2014.
More information can be found on MOCA Cleveland's website here: http://www.mocacleveland.org/exhibitions/michelle-grabner-i-work-home
Image: Molly Zuckerman-Hartung, Playlist, 2013, collage, 12 1/4 x 9 1/2 inches. Installation view, Michelle Grabner: I Work From Home, Museum of Contemporary Art Cleveland, 2013. Courtesy of the Museum of Contemporary Art. Photo: Howard Agriesti.