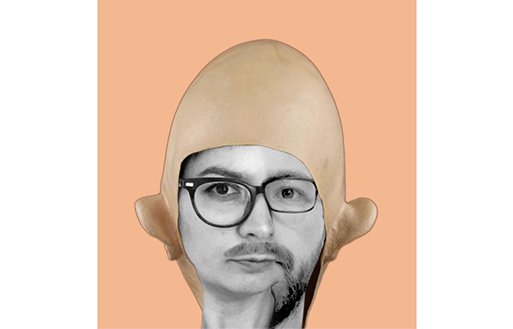 Magalie Guerin in Two Person Show at Roots and Culture
May 8, 2015
CHICAGO – Roots and Culture presents Magalie Guerin and Ross Normandin in a two person show.
The current work of Magalie Guerin involves investigating, mainly through painting and drawing, a singular shape as it shifts through its multiple iterations. Each recurrence brings forth a new understanding of the form. Repetition is a fertile ground; it allows for subtleties to take on a larger meaning. Although the form is slightly alien, through recurrence it grows increasingly familiar and begins to reference the 'other'—a body. Imbuing life and vibrancy into a shape that lacks identification, it gains context instead of surrendering to definition. It is a character study, a portrait so-to-speak of the dialogue between maker and object.
Vinyl and stone; high and low chroma; side-by-side and vis-à-vis—Ross Normandin's recent works rely on their constituent parts and associative installation techniques to nurture states of levity and weight. In each of the several torso-sized panels all titled, wins, crashes, knotted balloons enter through slabs of marble that occupy the composition's center. Alongside, sterile hand railings shine while hunks of matter, adhered to the wall, play dead. Taken alone, the works are playfully self-deprecating, fragmentary, and somber. Together their arrangement amplifies this condition and marks a palpable separation. In the presence of the broken, bent and deflated, one might endure not only the imagined, phantom pain of discarded ephemera but also one's own ragged breathing in response.
Magalie Guerin is a Montreal-born artist based in Chicago, IL. She received her MFA in Painting from The School of The Art Institute of Chicago in 2011. Guerin currently teaches Painting and Drawing at Indiana University Northwest and at College of DuPage. Most recently, she has exhibited her work at The Suburban (Oak Park, IL) and at Corbett vs. Dempsey (Chicago), which was a Critics' Picks in Artforum.com (September 2014). Other shows include Glass Curtain gallery in Chicago (Columbia College), Knox College (solo) (Galesburg, IL), Autumn Space (solo), Zolla/Lieberman and Julius Caesar in Chicago as well as Monya Rowe Gallery in New York City. In September 2013, she was the recipient of the John M. Hartigan Memorial Scholarship for Painters that allowed her to go Ox-Bow residency for two weeks. Website:www.magalieguerin.com
Ross Normandin lives and works in Providence, Rhode Island. He earned his MFA at the School of the Art Institute of Chicago in 2014 and is currently a Teaching Assistant in the Visual and Environmental Studies Dept. at Harvard University. Recent and upcoming exhibitions and residencies include – Roots & Culture Contemporary Art Center, Chicago Urban Art Society and the Sullivan Galleries in Chicago, IL, Distillery Gallery, Lincoln Arts Projects and Bromfield Gallery in Boston, MA, GRIN in Providence, RI, and the Vermont Studio Center in Johnston, VT.
April 24 – May 23, 2015
For more information click here.