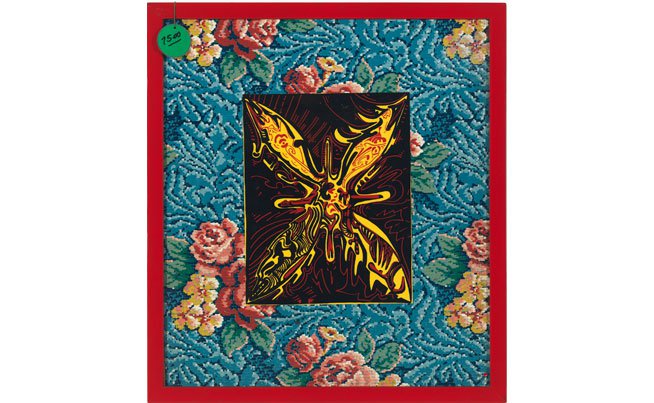 Karl Wirsum & Jim Falconer: What Nerve! reviewed in The New Yorker
July 29, 2015
NEW YORK – Karl Wirsum and Jim Falconer's recent group exhibition, What Nerve! at Matthew Marks Gallery, curated by Dan Nadel reviewed by The New Yorker.
Raising a salutary rumpus for summer's dog days, the Matthew Marks gallery gives three locations over to "What Nerve! Alternative Figures in American Art, 1960 to the Present." Organized by the independent curator Dan Nadel, the show features eighteen artists and one collective, whose outlandishness stems from non-New York (even anti-New York) roots. In the sixties, at the high noon of the Manhattan art world's imperium, renegade painters, sculptors, ceramists, and graphic artists in Chicago and the Bay Area took pride in grossing out reputable tastes and flouting formal protocols. They did so for the immediate hell of it, shrugging off mainstream appeal. It's wonderful how authentic, vital, and even inspiring their whippersnapper principles feel, fifty years later.
The main cohort here is the Hairy Who, a tight group of six Art Institute of Chicago grads: Jim Nutt, Gladys Nilsson, Jim Falconer, Suellen Rocca, Art Green, and Karl Wirsum. Taking their name from a chance query by Wirsum, about a man named Harry, they went in for remorseless punning, the figurative audacities and bohemian ethos of a Midwesternized Surrealism, and an embrace of lumpen popular genres, chiefly comic books. They also made a ritual practice of exquisite-corpse collaboration, vying for maximum weirdness, and perfected slap-in-the-face éclat with such techniques as painting on the backs of sheets of Plexiglas. At Marks, their feats project a loud party still under way.
Meanwhile, in the San Francisco Bay Area, a less coherent impulse, termed Funk art, flourished in riposte to the slick styles of the L.A. movements Light and Space and Finish Fetish, in favor at the time. The funny shocks of ceramic works by Robert Arneson are definitive Funk. (Vigorously modelled binoculars, from 1965, sport lidded eyeballs in place of lenses.) The painters Joan Brown and Roy De Forest and the sculptor Robert Hudson riffed backward and sideways on the histories of Expressionism and assemblage.
One San Francisco-born painter was a movement unto himself: the frenziedly satirical Peter Saul. Two of his punishingly superb pictures on themes of Vietnam and racism, from 1966, uncork political furies that are tacit elsewhere in the show. Also standing apart, but in a less compelling, arty way, are life-size mannequins, covered in colorful fabric or chain mail, by Forcefield, a collective based in Providence from 1996 to 2003.
The show climaxes with Destroy All Monsters, a group from Ann Arbor, Michigan, that was active circa 1973-1977 and doubled as a punk-rock band. Mike Kelley, Jim Shaw, Cary Loren, and the mononymic Niagara echoed and darkened the insurgencies of the Hairy Who and Funk art with conceptual-art savvy. Kelley and Shaw went on to raise the D.A.M. spirit of resourceful rage and poisoned nostalgia to the world stage. It's a treat to survey their precocious beginnings here.
"What Nerve!" broaches the very large topic of countercultural manifestations in the sixties and seventies, and could easily complement an omnibus historical exhibition with starring roles for, say, R. Crumb and Frank Zappa. But the focus on regional art is apt for a top New York gallery, as proof that yesterday's barbarians no longer have to camp outside the castle gate. ♦
Copyright © 2015, The New Yorker