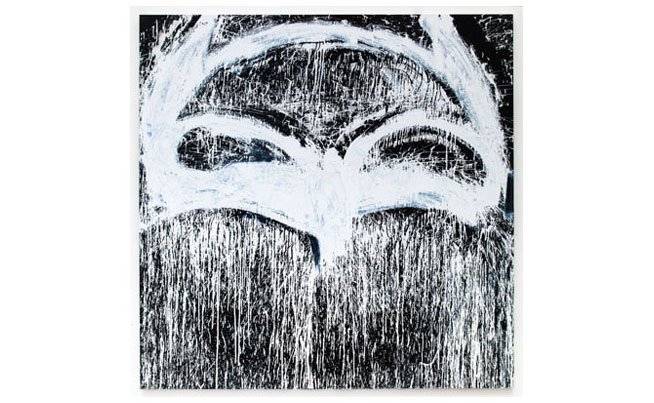 Joyce Pensato's I KILLED KENNY at the Santa Monica Museum of Art
May 20, 2013
SANTA MONICA – Brooklyn-based gallery artist Joyce Pensato opens her first solo museum exhibition I KILLED KENNY at the Santa Monica Museum of Art on May 31, 2013. Curated by Jeffrey Uslip, the exhibition runs through August 17, 2013. I KILLED KENNY features monumental enamel paintings and large-scale charcoal drawings rendered directly onto SMMoA's gallery walls. These new, site-specific works are contextualized by sculptural assemblages composed of derelict toys, objects, and ephemera from the artist's studio, and a selection of charcoal drawings and key paintings made between 1990 and the present. The exhibition's title, I KILLED KENNY, invokes the vernacular of "South Park," framing Pensato's visual vocabulary within the cartoon's sardonic w­it and cultural critique.
Appropriating iconic American cartoon characters as her point of departure, Pensato's gestural paintings and drawings flicker in the liminal space between menacing abstraction and comedic representation: Batman is depicted as a hollow, deliquescent mask, Bart Simpson peers through abraded skin, and Felix the Cat is rendered as a decapitated head. Joyce Pensato's paintings reinvigorate the legacy of Abstract Expressionism, imbuing her taxonomy of characters—The Simpsons, South Park, Donald and Daisy Duck, Olive Oil, and Mickey Mouse—with an uninhibited and arresting presence. Through her dynamic application of paint and pop cultural references, Pensato's compositions extend the possibilities of action painting into bold figuration and abstraction.
I KILLED KENNY also debuts a series of paint-splattered collages, in which historic images of Abraham Lincoln are overlaid with portraits of iconic Hollywood celebrities, contemporary artists, and legendary American boxers–Robert DeNiro in "Raging Bull," Gena Rowlands in "Gloria," Christopher Wool in his studio, and publicity stills of Muhammad Ali.  Pensato's new Lincoln collages provide further aesthetic context: In these works, Pensato's signature splatters of industrial paint exploit the material's visceral physicality, careening America's fraught social and political past into the forefront of our contemporary consciousness.
Joyce Pensato: I KILLED KENNY is organized by Jeffrey Uslip, Curator-at-Large for the Santa Monica Museum of Art.
A full-color catalogue will accompany this exhibition with an essay by Jeffrey Uslip.

About the artist:
Joyce Pensato was born and raised in Brooklyn, New York. Her work has been shown widely, including recent exhibitions at Friedrich Petzel Gallery, New York, Capitain Petzel Gallery, Berlin, Galerie Anne de Villepoix, Paris and Corbett vs. Dempsey, Chicago. Previous exhibitions include the San Francisco Museum of Modern Art and the St. Louis Art Museum (with Mike Kelley and Raymond Pettibon). Her work is in distinguished collections, including as the Museum of Modern Art, New York; the Museum of Modern Art, San Francisco; Hammer Museum, Los Angeles; the Dallas Museum of Art; St. Louis Art Museum; Speed Museum of Art, Louisville; and the FRAC des Pays de la Loire. Pensato lives and works in Brooklyn.
About the curator:
Jeffrey Uslip was born in 1977 and lives and works in New York City. He recently curated Michael Queenland: Rudy's Ramp of Remainders and Agnes Denes: Body Prints, Philosophical Drawings, and Map Projections, 1969 – 1978 for the Santa Monica Museum of Art. Uslip has also organized exhibitions for PS1/MoMA, New York, Artists Space, New York, Columbia University's Graduate School of Arts and Sciences, California State University, Los Angeles, and LAXART, Los Angeles. Uslip has lectured at the Yale University School of Art, the Whitney Museum of American Art, New York, and is an online contributor to Artforum. Uslip is currently a PhD candidate at The Institute of Fine Arts, New York University.
Above image: Joyce Pensato, Badass Batman II, 2013, enamel on linen, 80 x 80 inches
——————————————————————————————-
Exhibition shots below: