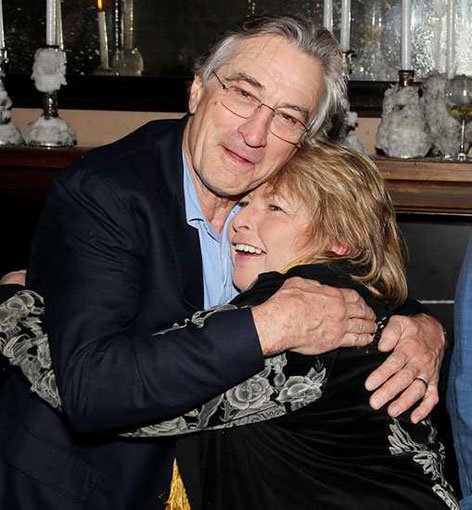 Joyce Pensato is the recipient of the 2012 Robert De Niro Sr. Prize for painting
Dec. 19, 2012
NEW YORK – Joyce Pensato is the recipient of the 2012 Robert De Niro Sr. Prize, an annual award honoring an outstanding mid-career American painter. Brooklyn-based Joyce Pensato will receive the $25,000 award, administered by the Tribeca Film Institute, for her considerable contribution to the field of painting. Pensato is the second recipient of the merit-based prize, which pays tribute to the work and legacy of accomplished painter De Niro Sr. Painter Stanley Whitney received the inaugural award —among the first to celebrate and shine a light on mid-career artists—in 2011.
A selection committee of distinguished individuals in the art world was appointed to nominate candidates and select the prize recipient. Pensato was selected by a jury including Betsy Baker, former editor of Art in America Magazine; art collector and television executive Douglas Cramer, founder and former President of the Board of the Los Angeles Museum of Contemporary Art, and longtime Trustee of the Museum of Modern Art in New York; John Yau, poet and art critic for The Brooklyn Rail and Professor of art criticism at Rutgers University; and Robert Storr, Yale University's Dean of the School of Art.
"Like my father, Joyce Pensato has truly demonstrated a lifelong commitment to her art," said Robert De Niro. "I am proud to recognize her exceptional work and to continue to honor my father as an artist through the Robert De Niro, Sr. Prize."
John Yao praises Pensato's work saying, "The great thing about Pensato's drawings and paintings is that they are neither overtly political nor boringly literal. Pensato is one of the few artists who didn't find it necessary to reject her early training in order to gain her authority. If anything, she made it into something all her own, which is a strong indication of how willful and single-minded she is."
Robert Storr added, "For all the promotional talk about artists who just go at it their own way there aren't very many who really run that risk, and fewer still who run it year in and year out over decades. Joyce Pensato has and continues to do so. The results are full tilt, high gear, Id-driven images that freely, even piratically take from popular culture but which, when she is finished with its icons, look like nothing we've seen before. Pensato's work is a jolt of manic energy of a kind we desperately need, a kind that can't be faked and that few have the strength to muster much less the stamina to sustain."
Joyce Pensato was born in Brooklyn to a Sicilian immigrant father and an Italian-American mother. In the early 1970s, she enrolled in the New York Studio School, where one of her instructors was Mercedes Matter, who founded the school in 1964. At the New York Studio School, Pensato studied with instructors who taught drawing in a way that recalled Giacometti's emotion-laden work, and was encouraged to draw in paint. She continued to explore this foundation in drawing and painting throughout her career.
Pensato draws in charcoal and paints in enamel. For years her palette has been black, white and silver, though color is beginning to make an appearance in her recent paintings. Her drawing process is one of making marks, rubbing them out and making more marks, with line being the essential form. In her paintings, the line is made of enamel that initially appears to have been applied quickly, though its varying densities and its field of drips and splatters makes it clear that it wasn't done in a single shot. In both drawing and painting Pensato is committed to finding the linear form that captures her subject matter, the cartoon characters and toys of contemporary American culture.
Pensato lives and works in Brooklyn, New York. She has exhibited widely, including in exhibitions at the Museum of Modern Art, San Francisco; the St. Louis Art Museum; The Speed Museum of Art, Louisville; and The Cleveland Museum of Art. Her work is included in the collections of the Museum of Modern Art, New York; the Museum of Modern Art, San Francisco; The Dallas Museum of Art; the Hammer Museum, Los Angeles; and the FRAC des Pays de la Loire, France, among others. She is the recipient of a Guggenheim Fellowship; the Pollock-Krasner Foundation Award; the Anonymous Was A Woman Award; and most recently the 2012 Award of Merit Medal in Painting from the American Academy of Arts and Letters. She will have her first solo museum exhibition, curated by Jeffrey Uslip, at the Santa Monica Museum of Art in June of 2013. She attended the New York Studio School.
De Niro Sr. was part of the celebrated New York School of post-war American artists. His work blended abstract and expressionist styles of painting with traditional representational subject matter, bridging the divide between European Modernism and Abstract Expressionism. He studied at the renowned Black Mountain College with Josef Albers, and later with Hans Hofmann in Provincetown and New York. He went on to exhibit at Peggy Guggenheim's renowned Art of this Century gallery in 1945 and 1946, as well as at galleries throughout the U.S. during his career. In 2010, a retrospective exhibition of his work was presented at the Musée Matisse in Nice, France. De Niro Sr.'s work is found in the permanent collections of the Brooklyn Museum of Art, Hirshhorn Museum, Metropolitan Museum of Art, Smithsonian American Art Museum, Parrish Art Museum, among others. The Estate of Robert De Niro, Sr. is represented by DC Moore Gallery, New York, and is advised by Megan Fox Kelly and Jeffrey Hoffeld. The prize is funded by Robert De Niro.
Photo: Dave Allocca