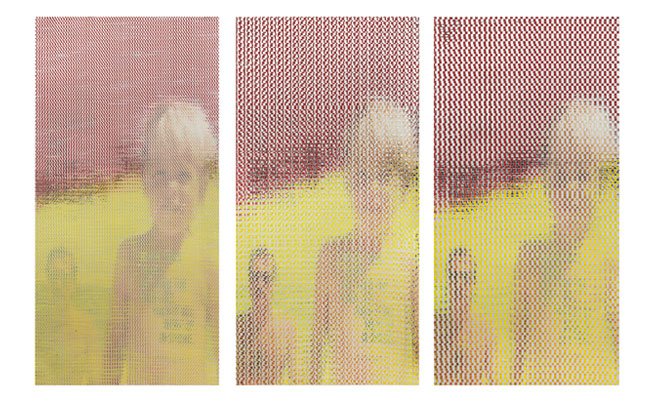 John Sparagana in Analogital at the Utah Museum of Contemporary Art
Jan. 23, 2013
SALT LAKE CITY – Analogital is an exhibition of international artists who engage with concepts generated from the transitional space between analogue and digital. Specifically the notion analyzes the forms that emerge from our culture's conversion from film grain to computer pixel. However, more broadly the term identifies a perceptual evolution in the human experience and its mediation.
In the mid-seventies at the University of Utah, innovators made breakthrough developments in early computer graphics and virtual designs like the "Utah Teapot", experiments that would lead to the founding of Pixar and early pursuits of digital reality. Eventual media such as ASCII, ProTools, Nintendo Entertainment System, CAD, gifs, jpegs and above all the Internet opened a multiverse of possible ways to render, perceive and copy the world around us. Social networking interfaces, video game systems and reality television additionally provide new avenues through which communication, behavioral learning and interaction occur virtually or with mediated remove. Analogital is about artists analyzing this science-fictional relationship existing between technology and the human condition.
"Today's voracious image culture has led to a simulacrum of compounds where artists reference references of references and imagine the copy of the copy to be the original," says Senior Curator Aaron Moulton. "New image vocabularies are emerging coupled with an unnostalgic condition where these new images appear, quickly evolve, disperse and disappear unarchived. Yet certain likenesses pervade our consciousness with no traceable reference, a kind of collective consciousness in an open-sourced handmade pixel. This combined with the virtual social conditions allow for a new way of considering sentimentality, sentience and sociality in the 21st century."
Artists: Cory Arcangel, Juliette Bonneviot, Spartacus Chetwynd, Vuk Cosic, Chris Coy, Harm van den Dorpel, Constant Dullaart, Lauren Elder, Daniel Everett, Mark Flood, Christian Jankowski, Oliver Laric, Mark Leckey, Joep van Liefland, Eva and Franco Mattes, Ciprian Muresan, Rob Pruitt, Borna Sammak, John Sparagana, Ignacio Uriarte, Utah Teapot, Jennifer West, Jordan Wolfson
JAN 18 – APR 20, 2013
For more information, visit UMOCA's website.
Utah Museum of Contemporary Art
20 S. West Temple
Salt Lake City, Utah
Image: John Sparagana, Untitled #1, #2, #3, 2012, oil stick on inkjet prints and reflective mylar, sliced and mixed, on paper, each piece 37 1/2 x 18 1/2 inches, suite of three.