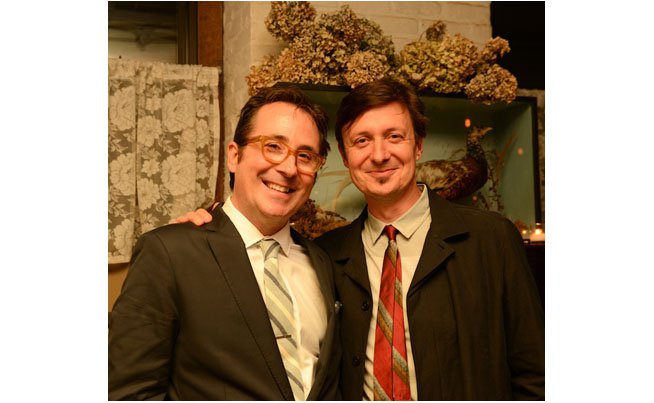 Jim Dempsey and John Corbett named #7 in Newcity's Top Art 50
Sept. 19, 2013
CHICAGO – The annual Newcity list "Art50: Chicago's Visual Vanguard" named gallery co-owners Jim Dempsey and John Corbett in the top ten of the city's visual art movers and shakers.
The health and diversity of Chicago's art ecology relies not just on the number of influential artists (which we profiled in last year's Art 50), but also on the behind-the-scenes operators, the movers and shakers, who help artists get their message out to large audiences. Chicago's cultural infrastructure is strengthened by the smart, hardworking people who lead our museums, sell our art, broadcast our ideas, and make the city a better place to be an artist.
John Corbett and Jim Dempsey thrive on collaboration. Their dedication to Chicago art history and their contemporary projects outside the city forge connections that result in exposing Chicago artists to the world and introducing people here to international currents in art and music. Cross-fertilization between their commitment to music—Jim Dempsey curated a long-running music film series at the Film Center, Corbett writes for DownBeat—fuels their engagement with the visual arts. Corbett worked with Terri Kapsalis and Anthony Elms on the influential and widely traveling Sun Ra project at the time Corbett vs Dempsey was taking shape. The gallery alternates between exhibitions by local longtime working artists like Philip Hanson, Margot Bergman, Christina Ramberg and international figures like Albert Oehlen and Peter Brötzmann. This fall Corbett will be organizing evenings of performance programs at the Guggenheim, showing work by Konrad Klapheck here and continuing to tend the gallery's and Chicago art's international presence in Berlin and London. In late 2015 they will co-curate the first ever Monster Roster retrospective exhibition at the Smart Museum.
The Art 50 was written by Jason Foumberg, Alan Pocaro, Annette Elliot, Sofia Leiby, Janina Ciezadlo, Pedro Vélez, B. David Zarley and Bert Stabler.
Photograph by Mariliana Arvelo.