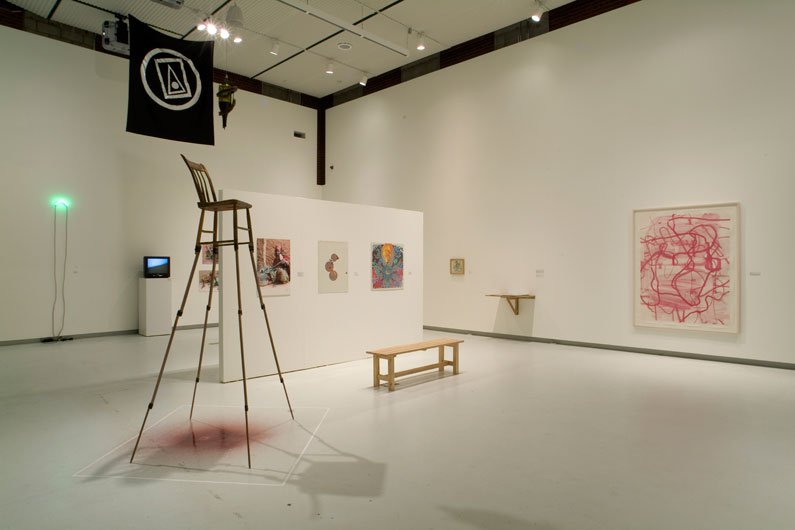 Interstellar Low Ways at the Hyde Park Art Center
Oct. 15, 2006
CHICAGO – Curated by Anthony Elms and Huey Copeland, Including works by the following artists: Matt Bakkom, Pedro Bell, Destroy All Monsters, Karl Erickson, Robby Herbst, Matthew Hanner, Alex Hubbard, Derek Jackson, Karl Heinz Jeron, Tim Kerr, Stephen Lapthisophon, Glenn Ligon, Dave Muller, Wangechi Mutu, My Barbarian, Senam Okudzeto, Joe Overstreet, Charlemagne Palestine, Adam Pendleton, Reverend Seymour Perkins, Mai-Thu Perret, Plastic Crimewave, Rob A. Pruitt, Simone Shubuck, Joshua Smith, travis, Fatimah Tuggar, and Christopher Wool.
"Sun Ra is not a person, it's a business name. And on the certificate, it's a business certificate which was gotten in New York City; they didn't notice that I didn't have down there what my business was. They stamped it, notarized it, and they filed it. So therefore, it's a business name, and my business is changin' the planet." —Sun Ra, quoted in John Corbett's Extended Play: Sounding Off from John Cage to Dr. Funkenstein (1994) Well before he left us in 1993, it was evident that while Sun Ra might go to outer space, he would never go out of business: in ways both seen and unseen he keeps on changin' the planet. "Interstellar Low Ways" explores Ra's evolving legacy in the visual field. Mysticism and expressionism, prophecy and placelessness, hermeneutics and racial politics, collectivity and counter-discourse, do-it-yourself myths and build-your-own futures: these are just a few of the territories that Ra obsessively charted, at times with dizzying fervor and often with cosmic prescience. His various modes of address–broadsheet, lecture, music, theater, proclamation, visual art, poetry–not only hold out a map to current artistic production, but also continue to inspire a range of practitioners equally invested in traversing the impossible, whether in UFOs or in search of alternative consciousness. Navigating these channels is far from an easy task.
The artists in this exhibition offer distinct projects that take up Sun Ra's characteristic forms, ranging from neon sculptures to paintings that flirt with formlessness. The works manifest varying degrees of engagement with their source, in some cases profound enlightenment, in others benign bemusement. Yet what such disparate gestures share is a determination to reimagine accepted histories as living myths that leave this world behind. In tipping their hats to Ra's spirit, the artists gathered in "Interstellar Low Ways" establish concrete paths to a "beta world" tomorrow, today. Ra, no doubt, wouldn't have it any other way. About the curators: Anthony Elms is the editor of the publication WhiteWalls, and Assistant Director of Gallery 400, University of Illinois (Chicago), in addition to being an artist. Dr. Huey Copeland is a Professor of Art History at Northwestern University and has written extensively on contemporart black art in publications and magazines including Art Journal and Qui Parle.
Istallation views (below)