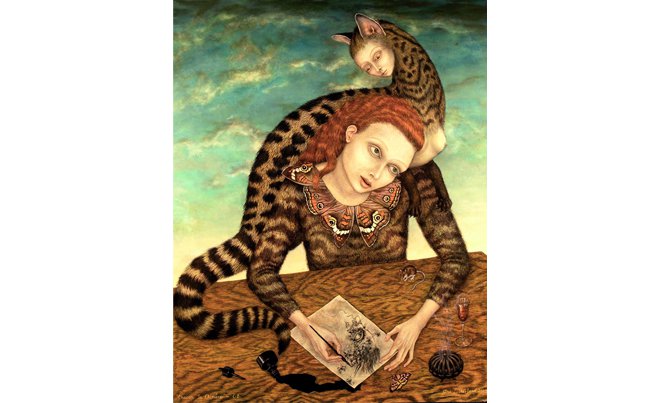 Gina Litherland: In the Realm of Innocents, at Crossman Gallery
Oct. 15, 2015
WHITEWATER – Opening Monday, October 19, Crossman Gallery presents In the Realm of Innocents. This exhibition will include women artists whose work portrays a world of fantasy, fairytales or legends. Previewing at the Walker's Point Center for the Arts in Milwaukee in January of this year, the exhibit will be expanded upon for the Crossman Gallery venue. The show was co-curated with Kimberly Storage, then a UW-W student and now the Assistant Director at the Tory Folliard Gallery (Milwaukee).
The narrative of the exhibit follows the way the selected artists depict imaginary scenarios; some improbable and fantastical, others literary and precise and all with a dreamy quality evoking the kinds of scenes usually encountered in our deepest imaginations.
Subjects vary from hybrid animals, witches, princesses and forest spirits. Manifestations of self-identity merge with representations gleaned from masterworks of distant eras.
Invited artists include: Linnea Bergstrom, Kristen Ferrell, Teri Frame, Kassandra Grob, Jean Roberts-Guequierre, Andrea Guzzetta, Laurie Hogin, Kamie Hoover, Gina Litherland, Sam Mitchell, Caitlin Skelcey, Claire Stigliani and Donna Mason Sweigart.
Milwaukee artists Gina Litherland and Jean Roberts Guiquierre express a strong sense of narrative combined with mythical content. Kristen Ferrell makes the denizens of the animal kingdom into fearful, sinister creatures. Linnea Bergstrom is a recent UWW graduate who takes a more introspective approach to her paintings and Andrea Guzzetta also engages a strong sense of mythology and fantasy in her works. Teri Frame had a residency in Australia this summer and created a video based on her performance piece there.  Music for the video was provided by the UWW Phonographers. Kassi Grob creates a fantasy world that invites viewers in to try to follow her storyline. Laurie Hogin (courtesy of Tory Folliard Gallery) uses animals to create some uneasy scenarios in her small format paintings. UW-Stout metalsmith Kamie Hoover will be displaying her wall sized metals installation work. Sam Mitchell uses the contemporary animated cartoonAdventure Time and Dr. Seuss as a stepping off point for her necklaces.  Donna Mason Sweigart creates improbable, fantasy themed wearable objects. Claire Stigliani (courtesy of Dean Jensen Gallery) reveals much about herself in her painted works which appear much like a spoken monologue.
October 19-November 14, 2015
Reception: October 19 from 5-7 pm
More information available here.