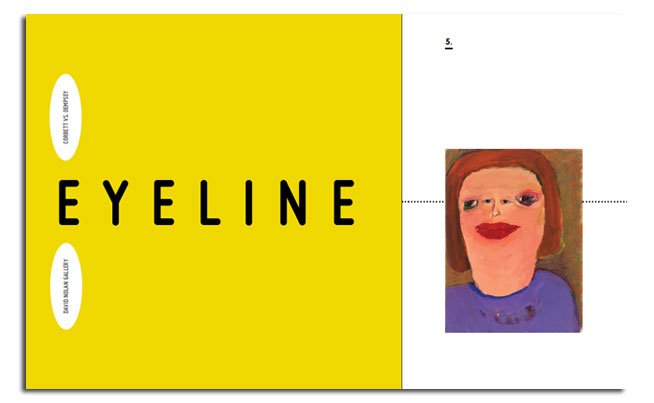 Eyeline at EXPO Chicago, with David Nolan Gallery
Sept. 14, 2013
CHICAGO – Corbett vs. Dempsey, with David Nolan Gallery, is delighted to present Eyeline, a shared booth at EXPO Chicago.
Focused exclusively on the portrait, Eyeline encompasses an extraordinarily wide range of styles, eras and approaches, from classic modernist and realist portraiture of the early twentieth century to the most contemporary currents in figurative painting, drawing, and photography.  The construction and installation of the booth is unusual: each portrait is hung directly abutting the adjacent works, all matched on the same eyeline, so that the entire space will be structured by a single horizontal line, with a single work by Georg Baselitz at the center. A full-color, 8-page publication accompanies the booth.
Press: Ashton Cooper, "A Midwest Sensibility Proves Key to Sales at EXPO Chicago's Second Try" (25 September 2013); Brian Boucher, "Strong Sophomore Outing for EXPO Chicago, " Art in America online (23 September 2013); Ted Loos, "EXPO Chicago Blew Through the Windy City," Sotheby's online (20 September 2013).
Featuring work by:
Gertrude Abercrombie
Richard Artschwager
Georg Baselitz
Margot Bergman
Brian Calvin
Jordan Davies
Steve DiBenedetto
Carroll Dunham
Julio de Diego
Dominick Di Meo
Hedwig Eberle
Llyn Foulkes
Neil Gall
Jonathan Gardner
Gabrielle Garland
Philip Hanson
Martin Kippenberger
Konrad Klapheck
Gina Litherland
Robert Lostutter
Albert Oehlen
Joyce Pensato
Christina Ramberg
James Rielly
Peter Saul
John Sparagana
Saul Steinberg
Shomei Tomatsu
Gavin Turk
Karl Wirsum
Jimmy Wright
Booth 510 & 512. EXPO Chicago 2013 runs from September 19th–22nd at Navy Pier, 600 East Grand Avenue, in Chicago. A private Vernisssage will be held on Thursday, September 19th from 6:00pm-9:00pm. The fair is open to the public on Friday, September 20th from 11:00 am – 7:00 pm, Saturday, September 21st from 11:00 am – 7:00 pm, and Sunday, Sept 22nd 11:00 am – 6:00 pm. Tickets are available at http://expochicago.com/visitors/buy-tickets.