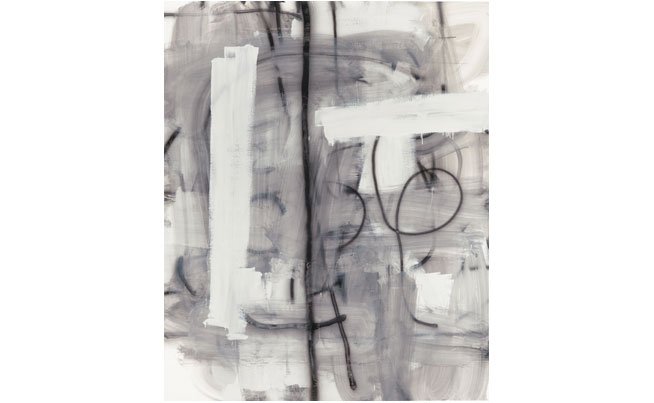 Christopher Wool opens solo show at the Guggenheim
Oct. 18, 2013
NEW YORK – On Friday, October 25, the Guggeinheim Museum opens a major solo exhibition by painter Christopher Wool.
At the heart of Christopher Wool's creative project, which spans three decades of highly focused practice, is the question of how a picture can be conceived, realized, and experienced today. Engaging the complexities of painting as a medium, as well as the anxious rhythms of the urban environment and a wide range of cultural references, his agile, largely monochrome works propose an open-ended series of responses to this central problem. This retrospective will fill the museum's Frank Lloyd Wright–designed rotunda and an adjacent gallery with a rich selection of paintings, photographs, and works on paper, forming the most comprehensive examination to date of Wool's career. The exhibition is organized by Katherine Brinson, Associate Curator.
Christopher Wool is generously supported by Guggenheim Partners, LLC.
Major support is provided by the Leadership Committee for the exhibition: Danielle and David Ganek, Chairs; Luhring Augustine, New York; The Brant Foundation, Inc.; Thompson Dean Family Foundation; Stefan Edlis and Gael Neeson; Gagosian Gallery; and Zadig & Voltaire. Additional Leadership Committee gifts are provided by The Broad Art Foundation, Santa Monica; Marguerite Steed Hoffman; Brett and Dan Sundheim; Bridgitt and Bruce Evans; Galerie Max Hetzler, Berlin; Mr. and Mrs. J. Tomilson Hill; Agnes and Edward Lee; Nina and Frank Moore; Nancy and Woody Ostrow; Cynthia and Abe Steinberger; Jennifer and David Stockman; Christen Sveaas; and David Teiger.
This exhibition is also supported by The Andy Warhol Foundation for the Visual Arts, with additional funding provided by the Juliet Lea Hillman Simonds Foundation.
Image: Christopher Wool, Untitled, 2010. Enamel on linen, 243.8 x 198.1 cm. © Christopher Wool. Courtesy the artist.
The exhibition runs through January 22, 2014, and then travels to the Art Institute of Chicago.
http://www.guggenheim.org/new-york/exhibitions/upcoming/christopher-wool