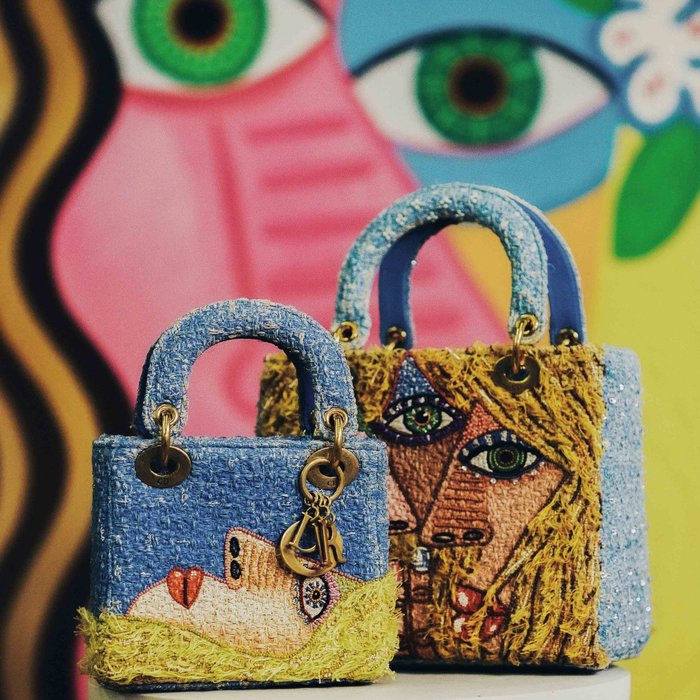 Brian Calvin for Seventh Edition of Dior Lady Art Project
Dec. 8, 2022
ANNOUNCEMENT | Brian Calvin contributes handbag designs for the seventh edition of Dior Lady Art Project

Brian Calvin envisioned the bags as an extension of his art practice (although translating his painting was a difficult task). "It's completely outside of my skillset," the artist said of his maximalist designs. He rendered the bags in azure, the perfect blue sky backdrop to frame his female figures. He then wielded threads, beads, and sequins for an expansive textural journey. The interior is a graphic pop of pink material, a gorgeous clash to the blue.

The Lady Dior handbag has gone down in fashion history as one of the most iconic and coveted accessories of all time thanks to a famous early fan, Princess Diana. The style debuted in 1995 and was originally called the "Chouchou," or "Favorite" in French. After the First Lady of France, Bernadette Chirac, gifted the People's Princess the purse, the royal carried it so often, including to the 1996 Met Gala, it eventually became better known as the "Lady Dior" bag.

Over 25 years later, the design — with its signature structured boxy shape, "DIOR" charm and Cannage topstitching — remains a classic and one of the most recognizable styles from the maison.

The brand gave the bags an especially modern flair in 2016 when it tapped a select group of creatives to reinterpret the Lady Dior handbag with their own artistic visions. The results were so inspiring that Dior is about to release its seventh edition of the Dior Lady Art project featuring collaborations with 11 artists from around the world: Brian Calvin and Alex Gardner (California); Shara Hughes (New York); Dorothy Iannone (America, Berlin-based); Ghada Amer (Egypt); Sara Cwynar (Canada, Brooklyn-based); Minjung Kim (South Korea, based in France, Italy and USA); Zhenya Machneva (Russia); Françoise Pétrovitch (France); Wang Yuyang (China); and Bouthanyna Al Muftah (Qatar).

Read the full article here.