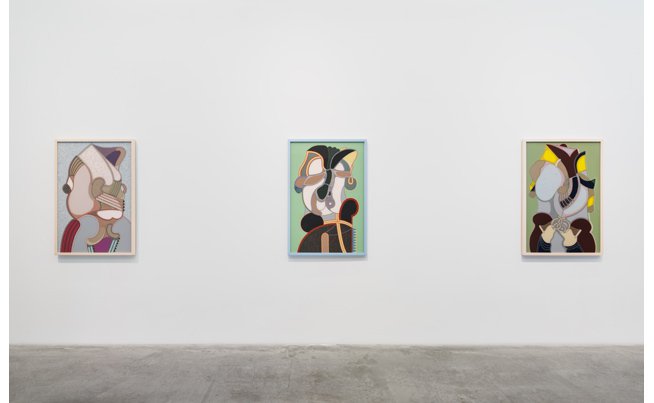 Barbara Rossi reviewed in the New York Times
Dec. 24, 2015
NEW YORK – Barbara Rossi's exhibition at the New Museum reviewed in the New York Times by Ken Johnson. 
In the 1960s, while Minimalism and abstract painting were ascendant in New York, surrealistic, fantastic and comical image making ruled in Chicago, where artists like Jim Nutt, Christina Ramberg and Roger Brown evolved what became known as Chicago Imagism. Barbara Rossi was among the stars of that scene, and "Poor Traits," in the New Museum's lobby gallery, is a captivating show of her zany, imaginary reverse paintings on Plexiglas and surrealistic graphite drawings from 1967 to 1975.
Painted on the reverse sides of Plexiglas sheets, the earlier portraits involve precisely drawn outlines filled in with flat, slightly muted colors. They represent bizarre, cartoonish figures consisting of lumpy, bulbous and squishy shapes without eyes, noses and mouths. They are like X-rays revealing subdermal viscera, which in turn suggest churning inner souls. Seen through the glossy plastic surfaces — to which Ms. Rossi added arrays of painted dots in selected areas — they have an adamantine clarity that enhances a grotesque comedy. In the three most recent works, from 1974 and '75, forms are simplified into funky yet elegant figures that call to mind Renaissance portraiture and Japanese woodcuts.
Ms. Rossi's graphite drawings resemble old master silverpoints — an old master in a state of ecstatic delirium, that is. Made with exquisite delicacy — some in pencil, some in colored pencil — these doodlelike compositions feature weirdly distorted faces and body parts that seem to be emerging from jumbled patterns, loopy lines and fragments of landscape. Like Ms. Rossi's paintings, they are as fresh today as they were four decades ago.