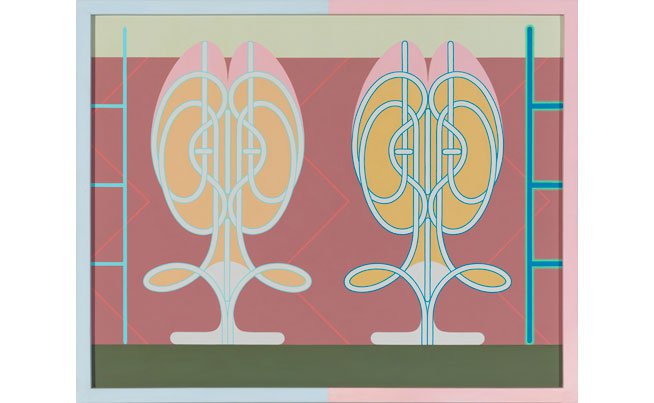 Barbara Rossi featured in group show, Meanwhile in Lonesome Valley at Loudhailer Gallery
June 19, 2015
LOS ANGELES – LOUDHAILER is pleased to present Meanwhile in Lonesome Valley, organized by Sayre Gomez–featuring works by Liz Craft, Heather Guertin, Orion Martin, Barbara Rossi and Chanel Von Habsburg-Lothringen. The exhibition opens with a public reception on Saturday, June 20 from 6-9 PM and continues through August 1.
Meanwhile in Lonesome Valley takes its name from the 1981 Barbara Rossi painting Double Crossing Lonesome Valley, which was made while teaching at the School of the Art Institute of Chicago, where she has taught since the early 1970's. Rossi is part of the seminal Chicago Imagists movement, known for their grotesque and indulgent approach to pop figuration. Many of the Imagists are known for creating labor intensive, yet garish paintings that draw inspiration from comic books and other post-war pop ephemera. Rossi stands out from her peers by drawing inspiration not only from these sources but also from her past experiences as a Catholic nun and her extensive travels through India and Asia. Her works possess a sophistication and subtlety that defy many of the characteristics generally associated with the artists of the Imagist movement.
The artists presented in this exhibition span generations yet share similar attitudes towards their respective practices. A central theme tying these diverse artists work together is an exaggerated portrayal of the human figure or lack thereof. Barbara Rossi's painting uses what she has called 'sandal-trumpet forms' and considers the painting to be a picture of two sandals making their way through the desert. Chanel Von Habsburg-Lothringen's work uses the figure in a more literal, yet comedic way and references a history of caricature as well as the role of representation in contemporary photography. Liz Craft will present a new ceramic wall work that recalls the mosaic facades adorning Venice beach bungalows and the whimsy of Mr.Men and Little Miss children's books authored by Roger Hargreaves. Heather Guertin's new series of lusciously developed oil paintings hover between abstracted landscapes and candid alien-like portraits. Gradating color shifts created from short gestural brushstrokes loosely spell out the head and eyes of a sexless figure peering back at its viewers. Orion Martin's sculpture uses a digital process in which an image is suspended in water and used to wrap around a three dimensional object, resulting in an uncanny distorted version of its original. His painting of a lone analog telephone is rendered in a mannerist Chicago Imagist style complete with trompe l'oeil beads of sweat and a matching frame. Martin places himself in an interesting position, flattening his use of materials, technology and historical styles.
Liz Craft was born in Los Angeles and received her BA from Otis Parsons and her MFA from The University of California. She has had solo exhibitions at Truth and Consequences (Geneva); Jenny's (Los Angeles); Patrick Painter (Santa Monica); Alison Jacques (London); Sadie Coles HQ (London) and Marianne Boesky (New York). Her work was in numerous museum exhibitions including the Wexner Center (Columbus, OH); Hammer Museum (Los Angeles); Migros Museum (Zurich) and the Whitney Museum of American Art (New York). Craft lives and works in Los Angeles.
Heather Guertin earned her MFA from The School of the Art Institute of Chicago. She has performed in New York, Chicago and Los Angeles, most recently at 303 Gallery (New York), White Columns (New York) and in conjunction with the Carnegie International (Pittsburgh). Recent solo exhibitions include Agustina Ferreyra (Puerto Rico); Brennan & Griffin (New York); Proyectos Monclova (Mexico City) and Interstate (Brooklyn). Group exhibitions include Hussenot (Paris); Thomas Duncan Gallery (Los Angeles); Hagiwara Projects (Tokyo) and Jack Hanley Gallery (New York). Hassla recently published Development, a monograph of her paintings and writing. Her novella, Model Turned Comedian, was published in 2013. Guertin is currently working on her second book, Not Yet Titled, Cambodia, to be published later this year. She lives and works in Brooklyn, NY.
Orion Martin was born in Sonoma, California and earned his BFA from the School of the Art Institute of Chicago. Solo exhibitions include Favorite Goods (Los Angeles) and Important Projects (Oakland). His work has been included in group exhibitions at Secret Recipe (Los Angeles); Human Resources (Los Angeles); Manifest Exhibitions (Chicago); Horton Gallery (Berlin) and Bodega Gallery (Philadelphia). He lives and works in Los Angeles.
Barbara Rossi earned her MFA from the School of the Art Institute of Chicago, where she serves as a professor of painting and drawing. She was the focus of a retrospective at the Renaissance Society, University of Chicago, in 1991. Rossi had six solo exhibitions with Phyllis Kind Gallery (Chicago/New York) between 1975 and 1983. Her work has been included in numerous important museum exhibitions including Chicago Imagist Art (Museum of Contemporary Art, Chicago/ New York Cultural Center, 1972); XII Bienal de Sao Paolo: Made in Chicago (Numerous locations in South America1973-74); 1975 Biennial Exhibition (Whitney Museum of American Art, New York); and Who Chicago? An Exhibition of Contemporary Imagists (Venues included theICA, Boston and Scottish National Gallery of Modern Art, Edinburgh, 1980-1982). She has forthcoming solo exhibitions at Corbett vs. Dempsey (Chicago) and the New Museum (New York). Rossi lives and works in Chicago.
Chanel Von Habsburg-Lothringen was born in Detroit and received her MFA from Cranbrook Academy of Art. Her work has been exhibited at the Detroit Design Festival, Detroit Independent Film Festival, and Royal Albert Hall. She is the recipient of the Toby Devin Lewis Award, Mercedes-Benz Emerging Artist Award Finalist, the Warren and Margot Coville Scholarship Recipient and has curated projects at Los Angeles Museum of Art (LAMOA), Detroit Design Festival, the Mike Kelley Mobile Homestead and Cranbrook Museum of Art. She lives and works in Los Angeles.
Please visit the Loudhailer website here for images.