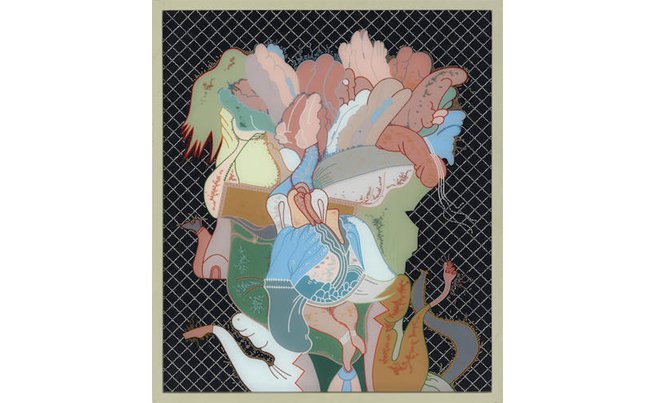 Barbara Rossi at New Museum reviewed in Artforum
Nov. 27, 2015
NEW YORK – Barbara Rossi's recent solo exhibition at New Museum, reviewed by Andrew Kachel for Artforum.
Chicago Imagist Barbara Rossi had formal rules for drawing and painting. Like a latter-day Surrealist, her drawings eschewed planned composition. She rendered forms individually with colored pencil and graphite, isolating a single object in her mind and executing it fully before moving on. Through this method, she created interior landscapes populated by common objects—staircases, bows, an umbrella, a leaky nostril—woven into dreamlike, mischievous squiggles. In the drawing Untitled, 1967, something snap-pea-like with strings of lightbulbs evokes lips and cheekbones on what loosely resembles a flattened-out face.
Rossi's paintings were more methodically planned than the drawings, produced by painting on the backs of Plexiglas panels—a technique that allows little room for error. The opposite sides received attention, too—usually patterned with small beads of paint in ordered and ecstatic groupings. Rossi's commingling of systematic and chaotic forms yields sensations that are strange, ethereal.
Rossi stands out for her ability to establish artworks as passages between conscious and unconscious realms. In Rose Rock, 1972, a thick field of ambiguous forms feels culled from an estuary of dreams: Fingers on a clasped hand are coffee beans; sea anemones are a network of intestines; a jacket lapel is just a jagged line. Encountering human hair in two of the paintings—3-D Do, 1973, and Brr'd and Baa'd, 1972—is a pleasant shock, lifting the works out of their hermetic vernacular and enmeshing them into a palpably physical realm.
-Andrew Kachel