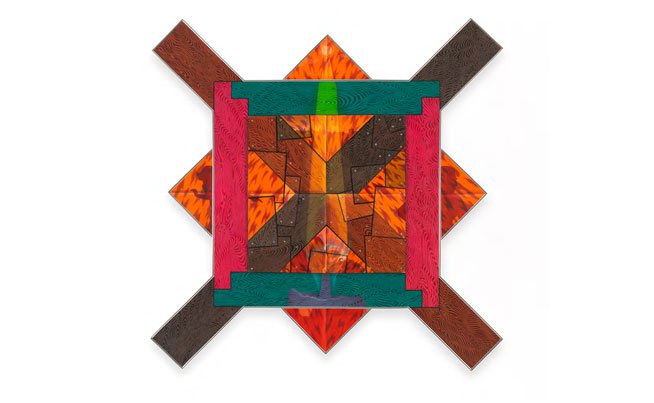 Art Green: Certain Subjects at Garth Greenan Gallery
Oct. 17, 2013
NEW YORK – Opening October 17, Corbett vs. Dempsey artist Art Green opens a solo painting exhibition, Certain Subjects, at Garth Greenan Gallery.
Garth Greenan Gallery is pleased to announce Art Green: Certain Subjects, an exhibition of paintings at 529 West 20th Street. The exhibition is the first solo presentation of Green's work in a New York gallery since 1979. Ten of the artist's densely layered, intricately detailed paintings will be on view, as well as a selection of related source materials. A fully illustrated catalogue will accompany the exhibition, with an essay by John Yau.
The exhibition and its accompanying publication trace the development of Green's work from 1975 to 2013 and the persistence of particular images. For over 35 years, Green has carefully honed his personal iconography—idealized, archetypal images of ice cream cones, wood grain patterns, burning candles, moonlit landscapes, and perfectly polished fingernails, to name a few. In works such as United Opposition (1975), Double Crosser (1991), and Same Difference (2009), Green orchestrates his eccentric panoply into a kind of visual pandemonium. It is left to the viewer, then, to decipher meaning from the artist's circuitous, often puzzling, yet somehow inevitable juxtapositions.
Born in Frankfort, Indiana in 1941, Art Green studied painting at the School of the Art Institute of Chicago. He first came to prominence in 1966, when he joined five other recent Art Institute graduates (Jim Falconer, Gladys Nilsson, Jim Nutt, Suellen Rocca, and Karl Wirsum) for the first of a series of group exhibitions called The Hairy Who. In 1969, he accepted a teaching position at the Nova Scotia College of Art and Design, Halifax, and that same year married Natalie Novotny, whose Art Institute education in pattern and fabric design became a strong influence on his work. They eventually settled in Stratford, Ontario, where he taught at the University of Waterloo from 1977 to 2006.
Since 1968, Green's work has been the subject of over 25 solo exhibitions, including nine at Phyllis Kind Gallery (1974, 1976, 1978, 1979, 1980, 1981, 1983, 1986, Chicago and New York), three at Bau-Xi Gallery (1974, 1979, and 1983, Vancouver and Toronto), and one at Corbett vs. Dempsey (2011, Chicago). His work has also been featured in more than 120 group exhibitions, including Personal Torment–Human Response (1969, Whitney Museum of American Art); Who Chicago (1981, Camden Art Center, London); 12 Chicago Artists (National Collection of Fine Arts, Smithsonian Institution); and Chicago Imagists (2011, Madison Museum of Contemporary Art, Wisconsin). In 2005, the Kitchener-Waterloo Art Gallery, Ontario mounted Heavy Weather, the artist's first career retrospective. In early 2009, the CUE Art Foundation, New York hosted a solo exhibition of Green's work, curated by Jim Nutt.
Green's paintings are featured in the collections of major museums around the world, including: the Art Institute of Chicago; the Smart Museum of Art, the University of Chicago; the Madison Museum of Contemporary Art, Wisconsin; the Museum Moderner Kunst, Vienna; the Museum of Contemporary Art, Chicago; the National Gallery of Canada, Ottawa; the Pennsylvania Academy of the Fine Arts, Philadelphia; the Smithsonian American Art Museum; and the Yale University Art Gallery, New Haven, Connecticut.
Art Green: Certain Subjects will be on view at Garth Greenan Gallery, 529 West 20th Street (between Tenth and Eleventh Avenues), through Saturday, November 23, 2013. The gallery is open Tuesday through Saturday, 10:00 am to 6:00 pm.
Image: Art Green, Double Crosser, 1991, oil on canvas mounted to MDF, 48 x 48 inches.